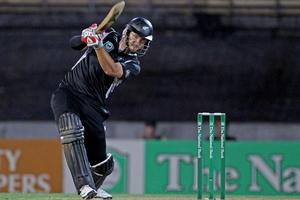 Daniel Vettori's batting heroics weren't quite enough to stop Australia from ending their run of five straight Chappell-Hadlee Trophy losses in New Zealand, taking out the second one-day international by 12 runs with 11 deliveries remaining at Eden Park.
It levelled the series 1-1 but it wasn't without a spirited fight by the Black Caps, who may now be without Ross Taylor for the rest of the series.
No one scored more than Vettori's 70 runs - a knock that gave New Zealanders hope that seemed impossible after they were 46 for 4 and then 89 for 5 - yet it was an intriguing and once again tight match, as New Zealand failed to haul in the rain-adjusted target of 266.
The hex of a successful Black Caps chase look set to haunt Australia again as the target was whittled down to 29 off as many balls.
But Vettori, having almost turned the match with his bewildering (for the opponents) batting style, lost his bails to end the match.
He stepped outside off stump to play one too many times, having blasted and nurdled his way to 70 from 49 balls, including eight fours and a six.
It backed up a tidy spell with the ball on his way to the man of the match award, even though the Black Caps lost. He took 2 for 43 from his 10 overs - a wonderful effort from someone who could barely move his injured neck at the toss.
He said his neck held up fine as the day wore on: "It freed up a bit. As I bowled, it got easier and I wanted to be part of the occasion more. It should be fully right for Hamilton."
Despite patches of rain and a reduction of five overs in the chase, New Zealand held their fans' attention throughout, even in a sparsely-filled Eden Park due to the Rugby World Cup construction disruption.
Many stood for the majority of the last five overs, such was the anxiety. However, the Black Caps paid dearly via the Duckworth-Lewis system for the weather disruption, losing five overs but just eight runs off their target.
"There's still a lot I don't understand about cricket and that's one area," Vettori said. "We would definitely have been better to have gone the 50 overs."
Vettori was also realistic on the Black Caps' flaws: "I thought we did a fantastic job with the ball on a good wicket with small boundaries but losing quick top order wickets hurt us most."
Australian captain Ricky Ponting was far from euphoric but felt his side had done enough: "We let too many runs through from the last balls of overs. That kept New Zealand in the run chase."
The key to the Black Caps' tenacity was mostly Vettori and Scott Styris in a series of partnerships through the middle to late order.
Martin Guptill and Styris produced 43 for the fifth wicket, Styris and Gareth Hopkins made 42 for the sixth, Hopkins and Vettori eked out 44 for the seventh and then Vettori and Daryl Tuffey moved the total forward 38 runs for the eighth.
The chase was always demanding yet manageable. Vettori made it more so with an unerring eye for the shot that pierced the gap. With 29 needed off 29 balls, hope blossomed - but the chase fizzled in the end.
New Zealand started with military precision from Brendon McCullum with 24, including three fours and two sixes. Guptill's crisp striking through the off side arc is something New Zealand fans are going to enjoy for many years but he edged behind for 18.
Styris was also at his brutal, dismissive best again on his way to 45 after coming out to a Mitchell Johnson "we meet again" bouncer that ballooned over his head.
Ponting said that move came with his seal of approval.
"I was happy for him to bowl a bouncer [at Styris]. In fact, I might have told him to. He was trying to make a statement. I'm happy with that. He [Johnson] was a big difference in the game."
Ryan Harris blazed through Peter Ingram and Neil Broom cheaply with consecutive LBWs and he restricted Vettori at the end. Broom had moved up to four in the absence of Taylor with his hamstring injury.
Johnson fired up with the ball to take 4 for 51 from nine overs as he looked to make up for his loss of discipline in Napier. It didn't stop him facing a savaging from the crowd. There were also sound efforts from Shane Watson and Harris, who picked up two and three wickets respectively.
It was then an awkward moment for James Franklin walking out with his hamstring injury and the freshly dismissed Broom as a runner to AC/DC's Highway to Hell to face a hat-trick ball off Harris. Franklin faces an assessment on his injury today.
Earlier Australia was blessed with an opening stand of 73 between Shane Watson and Brad Haddin in 13.4 overs, backed by a 101-run consolidation from Cameron White and Michael Hussey for the fifth wicket. That arrested a little batting slide by the visitors and took them to 217 for 5.
Watson found Guptill in the shade of the stand on the mid-wicket boundary, dismissed for 47 from 48 balls.
Ponting then miscued to Brendon McCullum at cover off Vettori for a cheap 1, trying to force a delivery over the legside.
Haddin was left ruing one of his better lofted off-drives when Vettori's left bowling hand got in the way for a sizzling catch.
The captain reacted at speed to have the ball drill right into his palm. The impact had Vettori still wringing his hand before the next delivery.
A canny captaincy decision then had Bond coming back for a second spell from the Terraces End and immediately reaped the reward of Michael Clarke's wicket. Clarke fell to a cringeworthy attempt at a chip/pull through the legside which looked more like an advanced yoga position.
Australia had slumped from being 64 without loss from 13 overs to 118-4 after the next 13. It took a determined effort from Hussey and White to claw their way back.
Theirs was the epitome of solid one-day batting through the middle of an innings, the hallmarks being the straight bat accumulation of singles down the ground and a series of minimal risk drop-and-runs.
White bludgeoned a couple of sixes off Franklin to the cow corner region before Franklin had him for 54 attempting the same, midway through his fourth over. McCullum raced in about 20m for another catch.
Hussey continued his stellar one-day batting career in New Zealand conditions with 56, his 30th one-day half-century. Hussey has a career average of 54.04 but revels this side of the Tasman, averaging an incredible 96.40.
New Zealand also came to the fore with a 41-run powerplay between overs 45 and 49 but the restriction proved too little once the rain had set in and the hosts lost valuable early wickets in their innings before Vettori set Eden Park alight - only to be snuffed out as he risked it all.