Australia's captain knows his tourists have a real fight on their hands as they head for Eden Park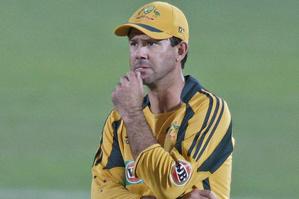 It's a safe bet that some time before the start of tomorrow's second ODI against New Zealand at Eden Park, Australia's players will receive a forceful reminder of what is expected of them.
The two-wicket loss at Napier on Wednesday night left captain Ricky Ponting unimpressed, and while he couched his words carefully the message was clear: Not Good Enough.
He had missed the Twenty20 defeat in Christchurch three nights earlier, but was looking for better when the teams moved on to the 50-over version.
Before the game, Ponting had talked of Australia's ODI game as having been their best form of cricket for the past couple of years, and his desire to carry that on.
Instead, his batsmen failed to capitalise on good batting conditions - with Mr Fixit, Mike Hussey, the only batsman to pass 50 - and his bowlers weren't as on song as they needed to be defending 275.
"I was disappointed in the way we played, and I think we've got a little bit of work to do before the next game," Ponting said.
From a flying start, the batsmen didn't carry on to play a match-defining innings. He didn't excuse himself from the batting blame either, being out for 44, having got set and in a position to play a dominant innings.
"We probably just took things for granted a little bit and expected that the run rate was going to continue to go that way," he said.
That Australia didn't push on was also in large part down to a committed, thoughtful bowling display by New Zealand, which Ponting admitted.
"In New Zealand on these small grounds with good wickets, you've never won the game and you're never out of the game," he said. "I think we probably just relaxed a bit too much. If you look at our batting, guys getting 30 and 40, it's just not good enough.
"We need to be better than that. Guys in our top order in particular need to go on and get big scores."
So Australia, having arrived with a swagger and 19 straight international wins at home over the summer, have been dumped back to back.
They have come up against a New Zealand side who don't fear them, and have a group of hard-headed individuals who have played against far better Australians than in this team.
Which is not to say Australia won't hit back hard.
"The boys have been up for a long time, no doubt about it, but that's not a reason, or excuse, why we didn't play well," Ponting said.
"I said to the boys, 'Every game we play you've got to play like it's your last,' and I don't think we necessarily played with that attitude."
Part of it is coping with pressure, "but that's what international cricket is all about".
Just as the batsmen did not carry through from decent starts, so the bowlers were off their game.
"[The bowlers] have to execute plans better. You could count on one hand the number of yorkers that landed well, particularly in the last 10 overs."
Ponting gave New Zealand their due, particularly for getting up without injured allrounder Jacob Oram's full contribution.
"They still scrapped and managed to get over the line."
An attitude you would imagine Australia's captain has a sneaking regard for.