Continuing our series on the state of rugby in NZ.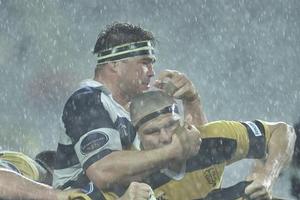 Rugby going professional was good for the game, say over 60 per cent of people, while former All Blacks say the shift was inevitable.
A DigiPoll commissioned by nzherald.co.nz asked 600 people if they thought rugby turning professional has been good for the game in New Zealand. Over 62 per cent of people said "yes", while 30 per cent said "no" and 7.4 per cent did not know or refused to answer.
Former All Black captain Stu Wilson said players could not be expected to play the amount of games nowadays and hold down a job at the same time.
He said before the professional era, players had to take leave without pay from their employers and somehow support their families.
"The out-goings were there but the in-goings were not. So you had to come to an arrangement with friends and families, a lot of the clubs helped out but they could only raise raffles and have sponsor's evenings. They would tuck a couple of grand in your pocket but that's not going to cover anything," Wilson said.
He said rugby was juggled around life and was the third in line behind family and work.
Wilson recalled being asked by his boss to chose between the All Blacks and his job during the controversial Springbok tour of 1981.
"As soon as it was known that I was to play for the All Blacks, there were some threats made on the [employer's] plants and equipment around the country and I got a one-on-one meeting with the chairman.
"He said you've got two choices Stewie, you say 'no' to the All Blacks and stick with us or say 'yes' to the All Blacks and I've got to let you go because we're getting too much heat put on us by our employees," Wilson said.
He said he chose to "have a crack" at the Springboks and was forced to resign.
"My wife at the time was a frontline protester along with Johnny Minto and I was inside the ground trying to battle with those gorillas and she was outside having a scrap with the cops, how does that work? And at the same time I was playing, I knew I didn't have a job," Wilson said.
Former All Black Va'aiga Tuigamala caused an outcry when he left rugby to play professional rugby league for the English club Wigan.
He said he had to make that decision in order to support his young family.
"The pure rugby enthusiasts probably felt that was the wrong decision," Tuigamala said.
He said he sympathises with the rugby public at the time when any player switching codes was seen as a "traitor".
"Now, rugby players have their freedom to travel and have their sabbaticals around the world," Tuigamala said.
He said back then players played for the love of the game whereas nowadays it is a career.
"We often think, how crazy were we? We were not getting paid for our efforts on the training field or the playing field but that is how it was,"
He said going to league was a "wonderful opportunity" and others followed in his footsteps.
"Three years after rugby did go professional and that stopped a lot of players going off to league," Tuigamala said.
Building site
Former All Black Craig Dowd is now coaching North Harbour. He said he was working on a building site and took six and-a-half years to complete a three and-a-half year builders' apprenticeship during his years with the All Blacks.
He said he got his first job through his rugby club and his subsequent bosses were rugby fans.
The prop's career spanned the switch to professionalism in 1996 and he recalls some ill-feeling at the time.
"People sort of held it against us. They thought: Why should we help this guy when he is getting paid? It was a transitional period," Dowd said.
He said the decision to go professional split the country.
Dowd said players like Richie McCaw and Dan Carter would have played for the All Blacks under the amateur era.
"But there are other players out there that you wonder, had they had to get up in the early hours of the morning and train into the evening, would they have gone all the way?" He said.
Asked if that had eroded some of the camaraderie that rugby is known for, Dowd said it had changed the nature of the game but it was still "hand up before hand out".
Former All Black and head coach of Samoa's national side Michael Jones said Pacific rugby is finding it tough under the professional era.
He said the professional era has brought a new standard of excellence to the game but it has also widened the gap between rich and poor unions.
"It's very much about bums on seats and the bottom line," Jones said.
He said Samoan players are heading to Europe to make a living, which is good, but Samoa will always struggle to field a strong national side.
"When you've got three weeks to prepare a team, it is always hard. It is always hard to get them to the same level of intensity as players coming off Super 14 which is only one notch down from a test match," Jones said.
He said a Pacific side in the Super Rugby competition is needed and while players will still go overseas, many others will be playing high-level rugby close to their friends and families.
He said New Zealand will always get the top Pacific players but the ones who are missed should still get a chance to play top level rugby and make a living close to home.
Former All Black Gary Whetton said the game always had to go professional.
"Good, bad or indifferent, you can't live in the past, its a fait accompli," Whetton said.
He said rugby had to be fitted around work but his employer at the time - Fisher and Paykel - was understanding.
"Some guys found it very difficult and lost their jobs and lost their wages. But we didn't have to play rugby, we did it because we wanted to play the game and once you got good at it, it was for the prestige and the glory of it."
He said players would wake early, do some training, go to work, train in their lunch time and then go to footy practice after work.
"That was the norm, some guys had to make decisions about careers but you're not just talking about All Black rugby but representative rugby and club rugby," Whetton said.
The Herald DigiPoll was undertaken between January 29 and February 10. It had a sample of 600 and a margin of error of +/- 4 per cent.