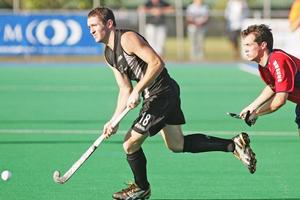 Security around the New Zealand hockey team has gone from "unacceptable to more than adequate" in the couple of days since their arrival for the World Cup in New Delhi.
The Black Sticks delayed their decision to attend the tournament, a virtual world championships, until the last minute over safety concerns. Striker Simon Child even decided not to go.
The World Cup is something of a test case for October's Commonwealth Games and even next month's IPL cricket tournament. Any incidents are likely to put those two events in serious doubt.
When the New Zealand team arrived in Delhi they were perturbed to find they travelled within normal traffic, meaning they were potentially open to the same sort of attack as the Sri Lankan cricketers.
The situation has changed considerably with thousands of security personnel deployed.
"The change from when we arrived to where we are now is almost unbelievable," New Zealand team manager Kevin Marr said.
"The security seemed very light for the trip in from the airport. Vehicles could pull alongside and jump in front.
"Now one side of the road [from the hotel to the ground] is shut off and every 50m police and army are evident.
"If you believe what you read in the papers, and I don't think they're that far off the mark, they have deployed over 25,000 people to security here.
"When we trained there were in excess of 1000 in the ground. There's no reason not to feel safe, really. In the last 48 hours it's gone from unacceptable to more than adequate."
Marr said security around the hotel was never an issue, especially with all 12 teams in the same hotel, making for a good hockey environment.
Black Sticks captain Phil Burrows said he felt "safe as" and they were now intent on reaching their target of a top-four finish.
They are in the same pool as Argentina, Canada, Germany, the Netherlands and South Korea with the top two going to the semifinals. Their first match against Canada early on Tuesday morning (NZT) looms as a must-win.
"You have to get off to a winning start and get the winning feeling going through the side," said Burrows, New Zealand's most experienced player with 235 caps.
"To lose points in that first game would be tough [for us] to get up against Holland two days later. The Canada game is a very big one.
"The Dutch and Germans have good sides here but they are beatable".
The Black Sticks were beaten by Australia in a two-test series last week and beaten 3-1 by England in a practice match on arrival in India.
"Our build-up hasn't been great but we have been improving," Burrows said. "All the mishaps, losing a player back to New Zealand and all the security issues, [haven't helped].
"The most effect [of losing Child] was on the field. We lost a lot of firepower up front. Him going didn't really disrupt the team too much."
New Zealand finished eighth at the last World Cup in Germany.
Australia is the top-seeded team in Group B and opens the tournament against European champion England today, when arch-rivals India and Pakistan meet. Olympic silver medallists Spain take on South Africa.
Germany, seeking a hat-trick of World Cup titles, will open Group A tomorrow against Asian champion South Korea, while Netherlands take on Argentina.
Despite winning the 2002 and 2006 World Cups, Germany's squad in India contains only three World Cup veterans. But captain Max Muller is not bothered by the inexperience.
"Germany is a relatively young side, but then we won the 2002 and 2006 World Cups with different teams," he said.
Matthias Witthaus, Moritz Furste and Jan-Marco Montag are the only players from the 2006 champion team left in Germany's squad that went on to win the Olympic title at Beijing in 2008.
Germany's strongest challenger over recent years has been Australia, which clinched its first Olympic Games gold medal at Athens in 2004. The Kookaburras rallied from a two-goal deficit at halftime to beat Germany 5-3 in the final of the Champions Trophy in December.
Striker Jamie Dwyer, the 2009 world player of the year and a 2004 Olympic champion, will lead an Australian team coached by Ric Charlesworth, a former World Cup winner.
The Netherlands are hoping to recreate the form that saw it win three major titles between 1996 and 2000. Retiring goalkeeper Gus Vogels has two Olympic gold medals and wants to add another title.