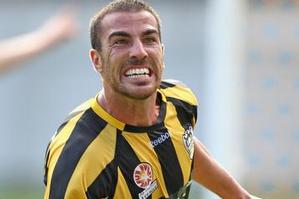 Wellington Phoenix ran themselves to a standstill before winning their soccer A-League elimination semifinal 4-2 in a penalty shootout against Perth Glory in Wellington today.
With the scores tied 1-1 at fulltime, both teams battled through half an hour of extra time before the match went to penalties before a Phoenix record home crowd which topped 24,000.
Reduced to 10 men after defender Jon McKain received his second yellow card in the 103rd minute, the Phoenix held on grimly and goalkeeper Liam Reddy saw them home with two brilliant saves in the shootout.
Although Stephen McGarry slotted home the Glory's first penalty, Reddy was the hero of the hour when he kept out first Naum Sekulovski then Scott Bulloch. Paul Ifill, Andrew Durante, Tim Brown and Adrian Caceres all slotted home from the spot to secure the Phoenix win.
The Phoenix now meet the Newcastle Jets at Wellington Stadium in two weeks, after they emerged surprise victors on penalties over third-placed Gold Coast at Skilled Park last night
An exhausted Durante, nerveless in taking his penalty, was afterwards ecstatic with the win.
"It's unbelievable, we've worked so hard all season. We had home ground advantage and we didn't want to let it go to waste, and we're just rapt, I'm so happy," he told Sky Sports.
"I definitely wasn't calm, but as captain I thought I'd better step up and take one. I was nervous but it went in, I'm really happy."
Perth, who had not won in Wellington in their last five visits, and had only one win on the road in their last nine matches, were boosted today by the return of right back Chris Coyne, and skipper Jacob Burns in the midfield.
Wellington had to weather a strong start from the Glory, with Scott Neville proving particularly troublesome down the left and testing Reddy mightily on a couple of occasions before the Phoenix, well marshalled by Durante, established some organisation at the back.
Up front, Leo Bertos had a particularly impressive first half, always looking dangerous and creating numerous chances for Ifill and Chris Greenacre, who were kept increasingly busy with a good supply of ball from the midfield.
Greenacre went down heavily in a collision with Perth keeper Tando Velaphi as the game neared the half-hour mark, but minutes later was on hand to put the Phoenix up 1-0 after some classy work from a Vince Lia throw-in.
Paul Ifill's cheeky back-heel found Manny Muscat, who put a pinpoint cross into the box where Greenacre stretched long to guide the ball home for his sixth goal of the season.
Ifill nearly made it 2-0 in the 45th minute, making space for himself on the edge of the box and forcing Velaphi into a brilliant save as the ball zeroed in on the top right corner.
Deep into first half injury time, Perth midfielder Wayne Srhoj's shot forced an equally impressive save out of Reddy and the Phoenix would have been grateful to hear the halftime whistle soon after.
Perth started the second spell much the same as the first, making most of the running and keeping the Phoenix deep on defence in their own half. Wellington's constantly stretched defence responded with coolness under pressure in the 57th minute when Troy Hearfield headed clear off the line with Reddy left stranded.
However, Perth were finally rewarded 10 minutes later when a Burns a cross found Neville in acres of space, the Phoenix defence reduced to spectators as he headed home and silenced the big crowd.
Wellington were unbeaten at home in 18 months but as the second half wore on, the Glory started playing with an increasing belief that they could break the streak.
The Phoenix battled to hold them out, but the game almost inevitably went to extra time, then penalties, as both sides struggled with their finishing.
- NZPA