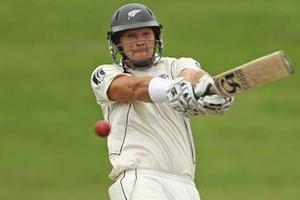 New Zealand cricket captain Dan Vettori knows quality when he sees it.
If for no other reason, that allowed him to fully appreciate Bangladesh's spirited fightback which has ensured the one-off test at Seddon Park will be stretched into a fifth and final day tomorrow.
It did not appear likely at lunchtime yesterday when the tourists showed every sign of rolling over at 211 for six in pursuit of New Zealand's first innings of 553 for seven declared.
At that point the result looked destined to take care of itself later today, but someone forgot to inform Bangladeshi captain Shakib Al Hasan and Mahmudullah, who breathed fresh legs into the contest with a determined rearguard action.
In the end their record seventh wicket stand of 145 spirited Bangladesh to a feisty 408, with Mahmudullah scoring 115, becoming the first Bangladeshi to post a test century against New Zealand, while Al Hasan was unfortunate to be given out for 87 when television replays showed that an edge behind did not carry to wicketkeeper Brendon McCullum.
But their partnership did wonders for the game, particularly when New Zealand lost opener BJ Watling before the close, run out for one to leave the hosts 154 runs ahead with nine second innings wickets in hand entering the fourth day.
Vettori was naturally disappointed his bowlers could not complete their work after reducing Bangladesh to 196 for six before lunch yesterday. However, that sentiment was tempered by the fact that Mahmudullah, batting at No 8, and Al Hasan thoroughly earned their rewards with a classy marriage of convenience.
"They were aggressive and it made for good test cricket. They played really well, I liked the intensity that they played with and they put the pressure back on us," Vettori said.
"I can't praise them enough for their partnership. They were busy at the crease, put away every bad ball and put us under a lot of pressure."
It is the purist in Vettori which allows him to fully appreciate what the opposition bring to the table; on this occasion Mahmudullah and Al Hasan guaranteed that the closing two days retain some interest, with New Zealand far from assured of gaining an eighth test win over Bangladesh in nine meetings between the nations.
Due to a tranquil nature of the pitch the odds at this stage favour a draw, although both teams harbour hopes of forcing a result.
Mahmudullah, who chalked up his maiden test century in his fifth match after scoring 96 not out against India at home last month, reckons the first session today will reveal a lot.
"Tomorrow is a big day for us," he said, basking in the glory of his century, scored in 192 minutes and featuring 17 fours and two sixes.
"If we can pick up some early wickets it will be a different game then."
For his part, Vettori divulged nothing about his potential declaration intentions, mindful of a friendly batting surface and Bangladesh's now proven ability to recover from precarious positions.
He will evaluate his side's prospects after two sessions today, knowing that the pitch is unlikely to deteriorate to any great degree, but is unlikely to leave the tourists anything less than 370-400 to chase in the last innings of the match.
"The pitch is starting to take some turn but it's still a good deck. There will probably be a few questions asked by the spinners but I still see the seamers playing a big role."
There was little to admire in New Zealand's bowling yesterday when left-arm spinner Vettori ended with the best figures of three for 88 off almost 29 overs and quick Chris Martin took three for 116 off 25.
But fast bowler Daryl Tuffey went for 84 off 18 overs, Tim Southee 62 off 16 and offspinner Jeetan Patel 53 off 10.
Vettori did not excuse his bowlers' returns on a shortage of work, with them all coming off an overdose of domestic one-day and Twenty20 matches in the past six weeks.
"Everyone understands that you change from game to game all the time and you have to make sure you adapt.
"Our seamers need to execute better to put Bangladesh under pressure. If you give them loose balls, like any team they will put you away."
- NZPA