Hurricanes playmaker ideal halfback to re-energise test rugby under new rules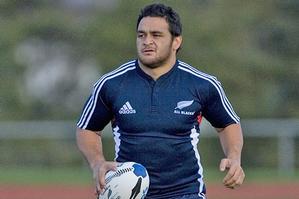 Picking the All Black No 10 is the easiest decision in New Zealand sport.
Finding a halfback partner for Dan Carter is anything but mission accomplished for the All Black selectors.
We are only a week into the Super 14 competition, so this topic may seem premature, but Piri Weepu's maestro touches for the Hurricanes against the Blues really caught the eye, and thus pulled the All Black halfback situation into view.
Might this be a case of cometh the new rules, cometh the man?
Just where Weepu - with 30-plus tests under the belt - fits into Graham Henry's plans is one of the more mysterious aspects about the current regime's selections.
The selectors have three distinctive options - Weepu, Jimmy Cowan and Brendon Leonard, plus Andy Ellis, who should be the last cab off the top rank.
At this point the grumpy Cowan, from Southland, would probably be rated number one. Cowan is combative, a strong cover defender who pulled off a couple of pivotal tackles in the black jersey last year, but he is a little laboured and not overly creative. He favours the lob kick.
Brendon Leonard, the upbeat Chief, is an explosive runner who has yet to recapture the dynamic form of his out-of-the-blue debut season in 2007. In test terms, he has always looked a good bench option, someone who can take advantage of tiring opponents and defensive lines reshaped by substitutions.
Crusader Andy Ellis is what you might call the selectors' favourite, a tireless scamperer although a bit small, a player who keeps hanging in with the national side even though many of us are not always sure why.
And then there is Weepu, by far the most gifted of the lot, and probably - although without any polling evidence - the people's choice.
There is a charm and class to Weepu's skill-orientated game which is reason enough to champion his cause in these often robotic times.
Weepu's career has been an enigma.
Questions pop up about his fitness - his girth has inspired mirth. There has been a continual league link - the game is in his background and he would like to wear the Kiwi jersey.
Weepu's attitude has been questioned. He was a surprise omission from the 2007 World Cup squad.
The Hurricanes have hurt his test chances by playing him as a first five-eighths.
There is a maverick quality to his personality, a risky trait in New Zealand rugby's straitjacket.
In short, his career has a lot of potential rocket power, but just as flight begins to take shape, the space ship crashes back to earth.
In keeping with this, he was hit by an ankle problem last year but his stocks had already fallen, and all of his meagre six test appearances were as a substitute in 2009.
A hunch says this will be the season when his career gets back on course in a big way, so long as he meets the fitness requirements.
Early days, but his performance against the Blues - who are, granted, no great yardstick - was reminiscent of how the Aussie league legend Cameron Smith dominates games through his ability to create momentum and space for others.
Smith travels well but is not an explosive runner, instead commanding his team like an imperious captain at the bow. He is the best dummy half ever, out-foxing opponents with the subtleties of his running, and forever cajoling his team forward.
Smith's best moves, which pull opponents out of position, are almost imperceptible. His passes are immaculate in timing and direction.
There was more than a touch of this to the way Weepu played last Friday night.
Ball players will be as crucial as ball runners if a new rugby era takes shape, where the team in possession should have a clear advantage and can take more risks.
Without Weepu, Carter would carry most of the ball-playing duties for the All Blacks.
Carter is a master of the wrap around, his running is a threat, and he can deliver passes on the button, both long and short.
What a foil Weepu would be though, forcing defenders to deal with two architects.
Weepu looks the man for the All Black halfback job to these eyes, the player who can advance the position and help reignite an era of exciting attack.
At the age of 26, and moulded by experiences good and bad, this is the season for the stocky, gifted Wellingtonian to take command of the position, a year out from the World Cup.
* Paul Ifill is one of the best sports signings made in this country, a deal approaching Steve Price proportions.
The Wellington Phoenix goal ace has transformed not only the team's prospects, but also the creativity of their game.
The former English club footballer and Barbados international has delivered when it counts.
Just as the Phoenix needed to revive their title hunt, he came up with a killer pass against the Gold Coast to induce an admittedly dubious penalty, which he converted for a 1-0 victory.
And Ifill was in sumptuous form against the Mariners at home in a 3-0 victory last week and scored two of the goals.
The Phoenix virtually toyed with the visitors at times, with Ifill's skills to the fore.
The Wellingtonians certainly made their former striker Shane Smeltz - winner of the A-league's Golden Boot - eat his words.
Who knows what got into All White Smeltz when he criticised the Phoenix for the manner of their victory over his Gold Coast side at Skilled Park.
The Phoenix were nearing the end of a gruelling run of away games at Perth, Melbourne and Christchurch when they won at the Gold Coast.
Under the circumstances, the Phoenix were there to do a job as the visitors, and it was up to the home side to make the running.
The Phoenix then showed their other side with some excellent football, led by Ifill, against the Central Coast. Full marks to Smeltz for speaking his mind, but it wasn't in a very fast gear at the time.
* On the subject of the Phoenix, coach Ricki Herbert can't be accused of favouring his All Whites. David Mulligan, Leo Bertos and now Ben Sigmund have all been chopped to various degrees this season, for form and tactical reasons.
What a magnificent season it has been for Herbert, with the All Whites qualifying for the World Cup and the Phoenix storming into the A-league playoffs.
I've long doubted if Herbert could manage both jobs, and problems may still arise, but from this distance he appears to manage the situation very well.
The big downside for the Phoenix though is the loss of young Costa Barbarouses to the Brisbane Roar, which ranks alongside the departure of Smeltz in disappointment. Why the club should lose such talent, especially Kiwi talent, is mystifying.
*If the Herald's World Cup travel dealings are anything to go by, South Africa is cashing in big time.
The All Whites' "B-hotel", in Johannesburg, which will also house media, is asking $746 a night for a double room, and $811 for a triple. There is some good news though - breakfast is included.
What a relief. But wait, there is more. The few motels close to where the All Whites will play their Group F matches are demanding five-night minimums.
Roll on 2011, New Zealand's hoteliers might be saying. And if our hotel owners do plan to cash in on the Rugby World Cup, Auckland's ratepayers might ask if an accommodation tax should be introduced to lessen their financial strain.
The 2000 Sydney Olympics were funded by such a tax, introduced well before the event took place.
* Daniel Vettori is a fantastic all rounder and his batting has progressed in leaps and bounds to the point that he hardly ever fails.
Even so, Brendon McCullum is still a way better batsmen as we saw yesterday. So why did Vettori come in before McCullum in the test against Bangladesh? Vettori already has enough of a load in New Zealand cricket, without having to deliver at number six in the batting order.
His test batting has worked lower down the order, so why tamper with that? McCullum seems spared the test responsibility his exceptional batting talent should carry.
*The America's Cup boats were very impressive. The sporting contest not so.
Switzerland versus the United States in a one-sided yachting contest in Spain just doesn't cut it as a spectacle, especially when viewing said races requires hanging around after midnight wondering if the action will even take place.
The technology was all very impressive but a lot is these days. People make sport, not whiz bang machines.