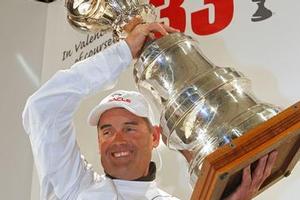 Sir Russell Coutts, the greatest sailor in America's Cup history, has done it again - yesterday hoisting aloft sailing's top prize for the fourth time.
In 15 years, he has never lost a race for the world's oldest sporting trophy and his influence on the event looks set to grow.
The Kiwi sailing legend is likely to be the master designer behind a new class of yacht that will revolutionise the way the America's Cup is contested.
Sir Russell wasn't on board BMW Oracle in Spain yesterday when the wing-sailed trimaran he conceived humbled Swiss Cup holders Alinghi to win the second race in the best-of-three series by 5min 26 sec.
Yachting commentator Peter Lester said the 33rd America's Cup would be remembered as a battle of technology and, as CEO of BMW Oracle, Sir Russell deserved much of the credit.
"Coutts' contribution to this programme has been huge. He oversaw and masterminded the entire project and made sure he brought together the best possible team to pull it off."
Lester believes Sir Russell has positioned himself as the most influential figure in the 159-year history of the America's Cup. He has won four times - as a helmsman, skipper and now CEO - for three nations.
He could have an even more impressive record had he not been banned from competing at the last multi-challenger event in Valencia in 2007 following a falling-out with Alinghi boss Ernesto Bertarelli.
BMW Oracle chief Larry Ellison has promised that the 34th America's Cup will involve a traditional multi-challenger regatta sailed in monohulls. The class of yacht is yet to be announced, but Lester is tipping a grown-up version of Sir Russell's own RC44 design - a high-performance keelboat.
Sir Russell wasn't the only Kiwi to play a key role in returning the Auld Mug to the States. At the heart of USA-17 was Oracle design co-ordinator Mike Drummond. Tim Smyth and Mark Turner oversaw construction. Mastman Matthew Mason, trimmer Ross Halcrow and bowman Brad Webb were in both races.
Prime Minister John Key yesterday said he had not ruled out Government funding for another Team NZ bid for the Cup.
In 2007, the Labour Government agreed to commit $36 million for the 33rd Cup, but after a series of legal wrangles, it was contested only by BMW Oracle and Alinghi.
Team NZ has already received $14.25 million of that money for, among other things, retaining team members and for the Louis Vuitton Pacific Series in Auckland in last year.
KIWI RECORD HOLDER
1995 - Won the America's Cup for the first time with Team New Zealand.
2000 - Successfully defended the Cup with Team New Zealand in Auckland.
2003 - As part of the Swiss syndicate Alinghi, returned to Auckland to beat his former team.
2010 - As CEO of BMW Oracle, masterminded the return of the Cup to America for the first time since 1995.