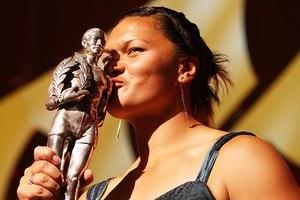 Valerie Vili made an emphatic statement to the world that she is on target to again dominate the shot put this year with a record-equalling toss of 20.25m at Hamilton's Porritt Stadium last night.
The Halberg sportswoman and supreme award winner for 2009 opened with the record throw which she did not surpass in the rest of the competition.
Jessica Cerival of France was second with 16.99m .
Her New Zealand allcomers and resident record was set exactly a year ago at Waitakere and her Oceania and national record of 21.07m was gained in winning the world athletic final in Greece in September.
Vili bettered her meeting record of 19.66m set in 2008.
"It was a pretty good opener," Vili said. "[It] obviously sets the standard for the rest of the world and shows them all where we're at. First competition and not really anybody here to push me.
"It is always awesome to come down to the Porritt Classic and I've given the crowd a show. I don't compete in New Zealand a lot so it is a great opportunity."
Vili's next competition is in Sydney in a fortnight. She then heads to Melbourne before defending her world indoor title in March.
"My goal for 2010 is to stay unbeaten for as long as possible. I've been unbeaten for two years now. I also want to get a great consistency over 20 metres," she added.
The other highlight from last night's meeting came from Stuart Farquhar, who confirmed his No 1 status in the Commonwealth with a personal best javelin throw of 85.35m.
Elizabeth Lamb secured a Commonwealth Games performance standard of 1.85m in the high jump, Julia Ratcliffe set a New Zealand W16 hammer throw record of 54.38m and Jacko Gill extended his New Zealand M16 and M17 shot put record to 20.66m.