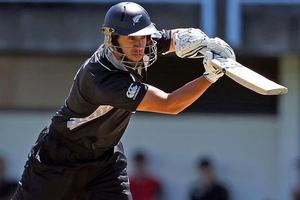 Ross Taylor put in a man-of-the-match performance as the Black Caps coasted to a comfortable win during their one-day international against Bangladesh in Dunedin today.
Taking to the crease and swinging his bat with near-visible contempt for the Bangladeshi bowlers, Taylor scored five sixes and reached a personal milestone of 2000 ODI runs during a match where the result was never in any doubt.
Chasing a target of 184 runs, the Black Caps got there through the dominance of Taylor and the calculated efforts of Taylor, Peter Ingram, Martin Guptill, and James Franklin who was at 20 not-out when skipper Daniel Vettori came onto the pitch and hit the winning runs.
The nightmare continued for opening batsman Brendon McCullum, who again was dismissed during the opening overs after taking another unnecessary risk at the crease.
Mushfiqur Rahim and Naeem Islam were easily Bangladesh's best, their partnership resulting in more over 100 runs.
Mushfiqur's 86 was the highest run score of any batsman on the park.
NZ bowler Andy McKay continued to impress, bowling ten overs for a return of two wickets and only 17 runs scored against him.
- NZ HERALD ONLINE
New Zealand vs Bangladesh - as it happened:
18:17pm: Neil Broom is brushed off immediately, dismissed off his first ball via LBW. Skipper Daniel Vettori is out for his 250th ODI appearance, and he celebrates by hitting the winning runs off his first ball.
Final score:
New Zealand 185/5
Bangladesh 183/8
NZ wins by 5 wickets with 135 balls remaining
18:14pm: A streaker dashed across the pitch, getting a few laughs from the Black Caps assembled in the stands. Not laughing quite so heartily are the Bangladeshi bowlers, because Ross Taylor is smashing their deliveries around the park with authority.
Taylor hit his fifth six of the match in the 26th over off a ball bowled by Rubel Hossain.
It's 176/3 in the 26th over, and Taylor could get the job done for New Zealand with one blow - but he's out, caught at deep mid-wicket by Mohammad Mahmudullah after trying to get NZ across the line with one shot.
Neil Broom is at the crease for the Black Caps as he and James Franklin look to end this match quickly.
17.56pm: Ross Taylor is the first Kiwi batsman to cross the 50-runs mark today, courtesy of two cracking sixes in the 21st over. A third six in the 24th over gets a jubilant reaction from the Dunedin crowd.
Bangladeshi bowler Naeem Islam and Taylor are playing to their strengths, making for some interesting cricket this afternoon as the Black Caps hold steady at 154/3 in the 23rd over.
17.29: The drinks break is over and the Black Caps are at 94/2 as Peter Ingram (27 runs) and Ross Taylor (18) resume their partnership.
There is a feeling that Taylor will start looking for big shots very shortly - and here he delivers. A massive swing sends the ball flying towards the boundary. It bounces out of the hands of Mohammad Ashraful and over the rope for four runs.
Peter Ingram tries to match Taylor's effort and slices the ball straight up in the air. It falls cleanly into the hands of wicketkeeper Mushfiqur Rahim.
James Franklin is on to replace Ingram, with the home side at 100/3 in the 18th over.
16.53: It's milestone time as Ross Taylor scores a single run, the 2000th of his one-day career. 54/2 for New Zealand after 10 overs. At the same point in their innings, Bangladesh were 15/3.
16.48: Shrieks of joy from the Bangladeshi side after a lightning-fast delivery from Rubel Hossain smashes through the stumps and ends Martin Guptill's innings. He managed 32 runs from 29 balls.
Ross Taylor grabs his bat and joins the action in the ninth over, 52/1 for New Zealand.
16.45pm: Peter Ingram and Martin Guptill's partnership has passed the 50-run mark as the Bangladeshi bowlers settle into a comfort zone that they can ill-afford to inhabit.
The Black Caps are at 51/1 in the eighth over.
16.20pm: The nightmare continues as Brendon McCullum is gone for nine runs after a second-over delivery from Shaiful Islam glances off his bat and travels directly into the stumps.
Martin Guptill replaces McCullum as Bangladeshi morale goes through the roof. He nails a well-timed shot off a delivery from Shaiful and earns four for his effort. Ross Taylor will bat next for New Zealand and the hope is that he won't be seen with a bat in his hands for a while yet.
The Black Caps are at 18/1 in the third over.
16.08pm: Brendon McCullum is at the crease to face the first delivery from Bangladesh's batting hero, Shahadat Hossain. The Black Caps will be hoping McCullum will last longer today than he did on Friday, where he was dismissed after three overs without scoring a run.
He almost blows it immediately, with inches being the difference between safety and a run-out dismissal. The Bangladeshi bowlers seem to realise now how much of a threat McCullum's partner Peter Ingram is, and are bowling accordingly. The newcomer looks rattled.
184 is the target to beat for New Zealand.
15.25pm: Mushfiqur Rahim's spectacular innings came to an end after a silly shot attempt resulted in his being dismissed via LBW off an Ian Butler delivery.
His punishing shots lent 86 runs to the visitors' total this afternoon.
Shahadat Hossain has picked up where his partner left off, swatting Butler's final-over deliveries away and helping the visitors notch up 17 runs in the final over. Shahadat scored a six and two fours off Butler's last three deliveries, leaving the visitors at 183/8 at the end of their innings.
New Zealand will go in to bat after the break.
15.11pm: It's a 100-run partnership for Naeem Islam and Mushfiqur Rahim after some fine batting - but it's all over for this pair as Naeem is gone after a laser-guided delivery from Ian Butler.
Naeem and Mushfiqur had played some fine shots, the latter nailing two sixes and a four in the last three overs.
Shahadat Hossain is on for Bangladesh, with the visitors at 154/7 in the 47th over.
14.34pm: Also feeling quite relaxed is a sleepy-eyed seagull which a television camera has chosen to linger on for some time. It appears to be at no risk of being struck by a boundary ball.
Speaking too soon, as Franklin bowls to Naeem and he cracks it away to the boundary for four.
Miscommunication almost costs the visitors on the next ball as Naeem runs down the pitch, only to be sent back by Mushfiqur. Daniel Vettori misses the stumps by about a metre and this Bangladeshi partnership lives to face another ball. They're now 96/6 in the 40th over.
14.25: Islam and Raheem have played it safe during their partnership but James Franklin has walked to the pitch looking like a shark smelling blood. He bowls a lightning-fast bouncer to Rahim which is almost his undoing.
Under the guidance of skipper Daniel Vettori, the Black Caps are giving Bangladesh few opportunities to break out of the rut. The visitors are 77/6 at the end of the 36th over, NZ's Peter Ingram feeling relaxed enough to sign a few sideline autographs as the final ball is delivered.
14.08pm: Naeem Islam and Mushfiqur Rahim's statistics make for poor reading this afternoon, with only nine runs scored so far during a partnership which has seen almost 50 balls bowled their way.
64/6 for Bangladesh as the 31st over winds down.
13.37pm: Controversy time as Brendon McCullum swipes at the stumps in an attempt to run-out Mahmudullah. Amid some doubt at whether the Kiwi wicketkeeper's gloves touched the stumps instead of the ball, the video umpire sides with the home side.
Naeem Islam is on to replace Mahmudullah, with the visitors now at 46/6 in the 23rd over. Miscommunication is costing the Bangladeshi batsmen dearly today.
13.30pm: Mushfiqur Rahim and Mohammad Mahmudullah aren't setting the world alight with their efforts at the crease, but they have managed to stem the flow of wickets falling in Dunedin this afternoon.
An apparent change in strategy after a very quick drinks break has seen Bangladesh abandon the big-stroke approach for more defensive batting.
The visitors are at 40/5 as the 20th over begins.
13.04pm Bangladesh are falling apart in Dunedin as New Zealand claims two quick wickets to leave the visitors reeling at 25 for five after 14 overs.
McKay picked up his second wicket with a vicious inswinging yorker which shattered Bangladesh captain Shakib Al Hasan's stumps.
Local boy Ian Butler then removed Aftab Ahmed for 10 in his first over, caught behind by Brendon McCullum.
12.43pm
Daryl Tuffey has got in on the act for the Black Caps with a brilliant caught and bowled to dismiss Ashraful for 1.
Ashraful drove hard down the ground but Tuffey showcased his superb reflexes to snatch it out of the air with one hand.
Bangladesh are now 14 for 3 after just nine overs.
12.27pm
A major mix-up between the Bangladesh batsmen has seen Kayes runout for 9. Ashraful played tried to turn an easy single into an impossible two and some good fielding from Vettori and Jacob Oram put an end to Kayes' innings.
Vettori's decision to bowl first seems a good one, although he got some unlikely assistance from the visitors on this occasion. Bangladesh 12 for two.
12.12pm
The Black Caps have struck early with rookie paceman Andy McKay removing Bangladesh opener Tamin Iqbal for 1 in just the second over. McKay, who took two wickets in his debut in Napier, managed to get the ball to move away from the left-hander, who edged it to wicketkeeper Brendon McCullum.
Bangladesh are now 5 for 1 with Imrul Kayes (4*) and Mohammad Ashraful (0*) at the crease.
11.42am
Welcome to nzherald.co.nz's live coverage of today's one-dayer between the Black Caps and Bangladesh. Daniel Vettori has won the toss and put the visitors into bat. It's a beautiful day in Dunedin but the pitch has a green tinge which the captain hopes his bowlers can take full advantage of.
New Zealand have made one change to the side that won the opening game last Friday, with Ian Butler coming in for Tim Southee. Bangladesh have made two changes with Raqibul Hasan and Nazmul Hossain dropped for Aftab Ahmed and Rubel Hossain.
Teams
New Zealand: Dan Vettori (captain), Brendon McCullum, Peter Ingram, Martin Guptill, Ross Taylor, James Franlin, Neil Broom, Jacob Oram, Daryl Tuffey, Ian Butler, Andy McKay.
Bangladesh: Shakib Al Hasan (captain), Tamim Iqbal, Imrul Kayes, Mohammad Ashraful, Aftab Ahmed, Mahmudullah, Mushfiqur Rahim, Naeem Islam, Shafiul Islam, Rubel Hossain, Shahadat Hossain.