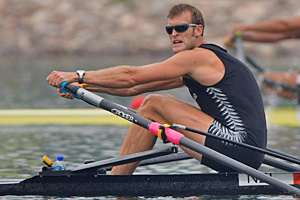 Olympians dominate the nominees for the New Zealand Sports Champion of the Decade award, which will be announced at Halberg Awards dinner in Auckland next week.
The award will be presented by swimming great Danyon Loader, the last decade's champion.
The nominees are:
* Rob Waddell: 2000 Olympic rowing gold medallist and multiple world champion, who was also a crewman on the Team New Zealand America's Cup yacht.
* Caroline and Georgina Evers-Swindell: Twin sisters who won back-to-back Olympic rowing golds in 2004 and 2008 and three world championship titles.
* Tall Blacks: Finished fourth at the 2002 basketball world championships.
* Silver Ferns: Won the 2003 world championships in Kingston, going unbeaten in 11 internationals that year.
* Sarah Ulmer: Followed up her 2002 Commonwealth Gold medal in the 3000m individual pursuit with the world championship title and Olympic gold in 2004. Her Olympic winning time was a world record which still stands.
* Michael Campbell: Became the second New Zealand golfer after Sir Bob Charles to win a gold Major. Held off Tiger Woods to win the 2005 US Open.
* Mahe Drysdale: Won multiple world championship titles and finished a brave third when ill at the 2008 Olympics.
* Valerie Vili: The current Commonwealth, Olympic, world indoor and outdoor women's shot put champion, she has dominated her sport for the last two years.
Former winners:
1900-09 - 1905 All Blacks (originals)
1910-19 - Anthony Wilding (tennis)
1920-29 - George Nepia (rugby)
1930-39 - Jack Lovelock (athletics)
1940-49 - Bert Sutcliffe (cricket)
1950-59 - Yvette Williams (athletics)
1960-69 - Peter Snell (athletics)
1970-79 - John Walker (athletics)
1980-89 - Richard Hadlee (cricket)
1990-99 - Danyon Loader (swimming)
- NZPA