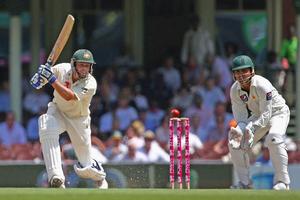 SYDNEY - An unbeaten Mike Hussey century, two astonishing catches and a five-wicket haul for Nathan Hauritz helped Australia complete one of test cricket's greatest comebacks to wrap up the series against Pakistan.
Ricky Ponting's men whooped with delight and piled on top of one other in celebration at the SCG yesterday after turning a 206-run first innings deficit into a 36-run victory.
The unlikely triumph clinched the three-test series 2-0 with one day to play.
"I don't think anyone in the world, other than the blokes in our room, thought we would win," said a jubilant Ponting.
Such a fairytale seemed virtually impossible as the home team resumed on day four at 268 for eight, ahead by just 80 runs after trailing abysmally on the first innings.
But Hussey, the 34-year-old warhorse supposedly on his way to the knacker's yard, proved instead to be Melbourne Cup material still.
He stayed the distance to notch his 11th test century, remaining not out 134 as he combined with the gritty Peter Siddle (38) to engineer a record-breaking ninth-wicket partnership of 123.
"I had my share of luck," Hussey said. "This shows just how hard it is to make a test hundred."
Pakistan wicketkeeper Kamran Akmal, who had dropped Hussey three times the previous day, was still wearing iron gloves as he grassed a sitter to give Siddle a life on 25.
Hussey and Siddle stayed together for three and a half hours of dogged resistance before Siddle was bounced out by Mohammad Asif.
"Siddle has won a game with his batting," a grateful Ponting said of his fast bowler.
When leg-spinner Danish Kaneria finally wrapped up the innings to claim a five-wicket haul, Australia had amassed 381 and set Pakistan a difficult target of 176.
The never-say-die Australians soon had Pakistan in trouble, thanks largely to two memorable catches.
Wicketkeeper Brad Haddin was parallel with the SCG turf as he flew to take a one-hander down leg side to get rid of opener Salman Butt off Mitchell Johnson.
And spinner Nathan Hauritz, in an act of self-preservation, somehow held a smashed drive off his own bowling to send disbelieving Pakistani captain Mohammad Yousuf on his way.
Yousuf blamed himself for the loss, saying: "My shot was very pathetic. It turned the game."
- AAP