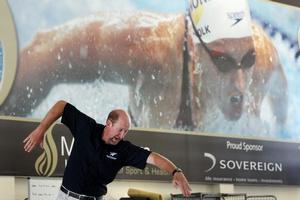 Mark Regan flew to New Zealand on Sunday. By Monday he was at the pool.
That's okay, he's expected to get quick results.
Swimming New Zealand has appointed the 49-year-old Australian as head coach of the national team, taking over from Jan Cameron who will continue as general manager for performance and pathways.
The word "team" figures highly in everything Regan says. Swimming, despite the image of its best exponents spending long and lonely hours staring at the black lines on the bottom of the pool, is a team sport.
"People don't believe it, but it is. Everyone in the team has a role to play in the culture of your team, the values of your team and those values become part of you," Regan says.
"There's values in New Zealand you probably don't even know you have and they have to be brought through in the culture of the team.
"That's what I want to develop here. Bringing a team close together is a very important thing. How many people are there in New Zealand? Four million?"
Well, 4.3 million, actually.
"It's a small country, you've got to be like a family don't you? To be successful that's what you have to do. If one bleeds, you all bleed."
And there's one particular team he believes his swimming squad should try, at least in part, to emulate.
"When you get picked for an All Black team you know what is expected of you. We need that here in swimming. We need to have a, 'You know what is expected of you' culture."
It is very clear what is expected of Regan - results.
It is no secret that Government funding agency Sparc has become frustrated at swimming's perceived lack of bang for buck. Of the six Olympic sports directly targeted for funding, swimming was the only one not to bring home a medal from Beijing, with Moss Burmester's fourth in the 200m fly the closest.
An empty-handed return from London could be catastrophic for swimming's ongoing funding and that is why Cameron brought ex-husband Don Talbot to Christchurch to set up a South Island high-performance centre and in turn encouraged him to court Regan, who had just finished a six-year stint in Denmark.
It was under Talbot that Regan cut his elite coaching teeth at the Australian Institute of Sport in Canberra, but it was his work in the Scandinavian country of five million that convinced Cameron and Talbot that Regan would be a perfect fit in New Zealand.
"I actually think the talent in the pool here is far ahead of Denmark. You can make a good programme out of this. There is a lot of infrastructure that is far superior to Denmark but as in all sport, finances become the problems.
"The only difference in Denmark and New Zealand is that they are in Europe so it is easy to go anywhere. The isolation in New Zealand and Australia becomes a cost issue. That's something for us to address.
"For us to get better funding from the Government we have to get results; that's our first priority, to get results and we'll take it from there."
It sounds so simple, but a succession of coaches, including Cameron, have put in the hard yards, have crossed 't's, dotted 'i's and still struggled to achieve the podiums that make people from outside swimming's inner sanctum sit up and take notice.
So is there a magic bullet?
"We can't put up barriers, we need to have an open mind to get the best possible results," Regan says. "Not everyone can win, but if you can be the best you can possibly be, you're a winner anyway."
And the barriers are?
"People's own self-doubt in their own ability."
Regan is recognised as an innovator but, if his own self-analysis is anything to go by, he is also a stickler for discipline. "I want to foster relationships and bonds between the coaches. It's very important we're going for the one common goal.
"I'm here to teach and guide [the coaches and swimmers]. I'm not going to be here for the rest of my life so I've got to think about what sort of legacy I want to leave.
"I'm strange. I'm so organised and very precise in what I do. I'm a perfectionist. I expect that from everyone around me."
In his career, Regan has coached athletes and relay teams to six Olympic medals, 21 long and short-course world championship medals, 25 Commonwealth Games medals, 14 European championship medals and three world records.
That, he reckons, is the easy part.
"The hard part is here," he says, sweeping his arm over the pool at the North Shore's Millennium Institute.
"The hard part is training. The easy part should be the competition. The rehearsals are always the hardest, the performance should be the easiest.
"It's my job to make that happen."
MARK REGAN
* Coached Cabramatta in west Sydney to national success.
* Recruited by the AIS and became head coach in 1998.
* Australia Olympic coach at Atlanta 1996 and Sydney 2000.
* Appointed Denmark head coach in 2002.