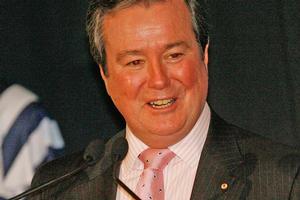 Australian Rugby Union boss John O'Neill predicts the other Australian Super franchises will accept some measure of private equity or ownership after resolving the dramas surrounding the Melbourne licence yesterday.
The ARU announced it had reached an agreement for control of the fifth Australian Super franchise with the Melbourne Rebels consortium, headed by business identity Harold Mitchell.
Melbourne, who will play at the new 31,000-capacity Rectangular Stadium in the city's sporting precinct, will join an expanded 15-team competition next year when Australia, New Zealand and South Africa will field five teams each.
Yesterday's announcement ended several months of uncertainty over who would control the Melbourne franchise.
O'Neill described the process as challenging but said the outcome was good for rugby, Melbourne and the ARU.
Mitchell said his group had been doing plenty of work on completing major appointments, including those of coach and chief executive.
Announcements on those positions would be made in the future, with more details about the various investors in his consortium.
He didn't rule out participation and investment from the rival Vic Super 15 group and businessman Kevin Maloney, who had also previously expressed interest in being part of the Melbourne franchise.
The Victorian Rugby Union is not an equity partner in the Melbourne franchise, but O'Neill described it as a stakeholder.
O'Neill said settling ownership of the Melbourne team had been the ARU's first order of priority for this year and the process had not shaken his faith in private funding of the sport.
"We made a strategic decision nearly two years ago that rugby needed private equity on a nationally controlled, regulated basis and nothing that has happened in the last two years has changed my mind," said O'Neill.
"I think that you will see private equity or private ownership come into the other [Australian Super] franchises.
"No one is pushing it, but I think Melbourne has led the way and I suspect that others will follow in the fullness of time.
"It is a significant landmark in terms of Australian rugby's competitive position, vis-a-vis the other football codes, particularly AFL, NRL and football.
"I think if we resisted the introduction of private ownership, the game would be significantly diminished and, over time, we would lose our competitive edge."
O'Neill said the ARU would inevitably continue to provide central funding for all the Australian Super franchises.
Mitchell was sanguine about Melbourne's financial prospects.
"Private equity has got to understand that this is not a large money-making venture, it won't lose money."
He expressed confidence in rugby's ability to thrive in the crowded Melbourne sporting marketplace.
"Melbourne is a great supporter of all sports."
- AAP