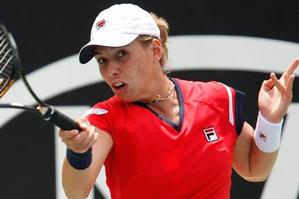 Marina Erakovic was left desperately searching for answers ahead of the Australian Open after tumbling to a first-round exit for the first time in Auckland's women's tennis tournament.
Erakovic's run of never failing to make the second round in her home town came to a halt at the hands of promising young Frenchwoman Alize Cornet, with the straight-sets defeat ending a disappointing New Zealand challenge at the ASB Classic.
Erakovic was visibly upset after the 6-4, 6-3 defeat, delivering a brutal self-assessment and describing her performance as "tough to take".
"It was very disappointing, I didn't play very well at all," she said.
"I had patches in the first set where I had chances to take the lead and take control but I just let it slip and that is hard to take. Overall, it was a bad day at the office."
Playing poorly in front of a New Zealand crowd was particularly disappointing, she said.
"It is definitely hard, I feel like I did let [the crowd] down. I wish I could say my preparation wasn't good but it was good. I wish I could say that I had a long injury, but that is behind me. So it is definitely tough to take. At home you want to play well and when you don't, unfortunately, it sucks.
"What can I say? I had a tough one today. I just have to move on and keep at it."
With her ranking having tumbled to outside the top 200 after a run of poor form and an injury lay-off, Erakovic knows she needs to find a way to get her career heading in a positive direction again after a horror 18 months.
"I play really well in practice and things but when I get on to that match court it just doesn't come out. I've got to find the formula."
Her cause will be aided by an injury-protected ranking of 83, which she can use to enter eight WTA events, including one Grand Slam. That ranking will get her directly into Melbourne, but it would not have got her into the main draw of next week's tournament in Hobart, which could have provided vital match play.
Instead, she now faces a steady diet of practice ahead of what looms as a crucial Australian Open campaign.
Erakovic fingered her poor serve as her biggest problem yesterday but her failure to make an impression on Cornet's serve was also a major factor in what was a fairly convincing defeat.
The Kiwi had just two break points in the match, both in the fifth game of the first set. She converted the second to get back on serve after dropping her own serve with a double fault in the previous game, but after that Cornet's serve proved impregnable.
Serving to stay in the first set at 4-5, Erakovic dropped four straight points to lose the game from 30-0 up, with Cornet closing out the set with a blistering forehand winner.
The second set stayed on serve until the sixth game when Erakovic dug herself into a 0-40 hole. Two strong service points saw off the first two break points but Cornet rallied strongly on the third and Erakovic cracked to concede the decisive break.
The Kiwi had a glimmer of hope in the final game, fending off a match point to take Cornet to deuce as she served to close out the match. But the 50th-ranked Frenchwoman calmly claimed the next two points to book her spot in the second round.
"I just tried to make no mistakes and serve well and I did it," Cornet said. "When it is windy like that you have to fight on every point. Marina plays good but she doesn't have enough matches behind her. I think she'll play better and better this year for sure."
For Erakovic, there was little consolation in knowing she still had the game to match it with a player ranked at a level she herself had been at mid-way through 2008.
"That is one of the reasons I am really upset. I felt as though I had it. I definitely felt like I had a big chance and that's what makes it tougher to bear."