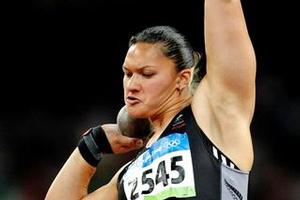 Difficulty in separating some outstanding performances by New Zealand sportsmen and women at world championship level last year has been reflected in the finalists for the 2009 Halberg Awards.
The final field for the Sportsman of the Year category was intensely competitive, with five finalists selected instead of the usual four. They include the rowing single scull world senior and lightweight world champions Mahe Drysdale and Duncan Grant respectively, Black Caps captain Daniel Vettori, All Blacks captain Richie McCaw (recently named the IRB Player of the Year) and Scott Dixon, who this year became the Indy Racing League's most successful driver.
The Sportswoman of the Year category was less crowded, with Valerie Vili, who went through the year unbeaten, joined by three other world champions; the cycling pair of Alison Shanks (individual pursuit) and Sarah Walker (BMX Olympic Class), plus Sophie Pascoe, winner of four gold medals - all in world record time - at the Paralympic Swimming Championships.
Many consider that Vili will win the overall title - the 2009 Halberg Supreme Award - for the third time running but that result will not be known until a black tie dinner at Sky City on February 4.
Rowing dominates with five finalists - Drysdale, Grant, the pair of Eric Murray and Hamish Bond and the lightweight double scull crew of Storm Uru and Peter Taylor in the teams category, plus Richard Tonks, who coached two of the world champions.
Cycling, with Shanks, Walker and head coach Tim Carswell, has three finalists while athletics, with Vili and her coach Kirsten Hellier, has two.
The effort of the All Whites in beating Bahrain to be one of the last teams to qualify for the 2010 World Cup finals in South Africa have been rewarded with team and coach (Ricki Herbert) selections.
The All Whites are joined in the Team of the Year category by rowing world champions Uru and Taylor, and Murray and Bond, and the sailing 420 women's world champions, Alexandra Maloney and Bianca Barbarich-Bacher.
The awards, organised each year by the Halberg Trust, salute outstanding achievement by New Zealanders in sport at home and overseas over the 12-month calendar period.
The Finalists
*Westpac New Zealand Sportsman of the Year: Scott Dixon (motor sport), Mahe Drysdale (rowing), Duncan Grant (rowing), Richie McCaw (rugby), Daniel Vettori (cricket).
*New Zealand Sportswoman of the Year: Sophie Pascoe (swimming), Alison Shanks (cycling), Valerie Vili (athletics), Sarah Walker (BMX cycling).
*New Zealand Sports Team of the Year: All Whites (football), men's senior pair (rowing), men's lightweight double scull (rowing), women's 420 (sailing).
The supreme Halberg Award will be chosen from one of the above.