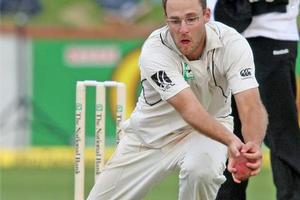 One-day leaders Auckland kick off the new Twenty20 season boosted by their good form but keen to dismiss any notion that it makes them favourites for the national title.
Auckland face last seasons's Twenty20 cellar dwellers Northern Districts at the rebuilt Bay Oval in Mt Maunganui this evening in a televised HRV Cup match. The Twenty20 competition, which runs all month, has been extended to eight rounds with the winners going into the Champions League as Otago did in 2009.
Auckland coach Paul Strang said while tactics were ever-evolving in Twenty20, the game still came down to key players producing their best.
"We're happy about the confidence our form has given us and cricket is a confidence game, but we are certainly not the favourites if you look at the lineups out there."
Twenty20 has become the hottest topic in cricket. The Indian leagues' impact on leading players' wages and ambitions has already been felt but the full story is yet to unfold.
"You will see grand statements about Twenty20 on both sides but I don't think anyone truly knows where this will lead. I would call myself more of a traditionalist but I know many spectators and players who are Twenty20 fans and it has its place."
Strang believes Twenty20 has good and bad influences on first-class cricket.
On the plus side, techniques in areas such as batting against spin bowling were improving. Twenty20 allowed batsmen to perfect shotmaking that was once frowned upon.
Twenty20 had also advanced fielding techniques. "It's wonderful to have the Black Caps and the overseas players involved in the competition this year and all that experience is going to come through in this competition," said Strang.
The internationals playing this evening include Daniel Vettori, the Black Caps' inspirational captain.
Northern Districts captain James Marshall, who has recovered from a finger injury, said: "Adding Dan into the mix with the bat and ball brings an interesting dimension. We were very disappointed last year but have put in a lot of discussion about our game. For us, it's about evolving and progressing."
Mt Maunganui last hosted top domestic cricket in the prime summer period seven years ago.
Northern Districts also play Otago at the Bay Oval tomorrow, with both games starting at 4.30pm.
In the other match tomorrow, Central Districts host Wellington in New Plymouth, the match starting at 2pm.
AUCKLAND V ND
Bay Oval, Mt Maunganui, 4.30pm
Auckland: Reece Young, Martin Guptill, Richard Jones, Ravi Bopara, Gareth Hopkins (c), Scott Styris, Lou Vincent, Colin De Grandhomme, Ronnie Hira, Greg Morgan, Michael Bates, Daryl Tuffey.
Northern Districts: James Marshall (c), Daniel Vettori, BJ Watling, Daniel Flynn, Peter McGlashan, Anton Devcich, Kane Williamson, Joe Yovich, Bradley Scott, Bruce Martin, Tim Southee, Brent Arnel.