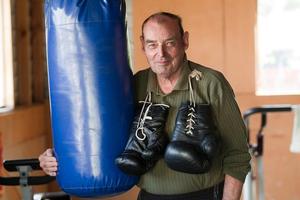 Kevin Barry senior has tried to walk away from the boxing ring on several occasions only to find that he is not the retiring type.
The long-time trainer is now 73 but he still has the energy and enthusiasm needed to help a stable of half a dozen fighters out of his backyard garage in the Christchurch suburb of Redwood.
He closed Barry's Boxing Gymnasium in the city for the last time a year ago, planning to put his feet up for good. Inside a week he was bored and restless and young fighters continued to knock on the front door seeking his time and guidance. He could not turn them away.
"I just found I couldn't give it away," said Barry.
"I'm not one to sit in front of the TV, I've got to be doing something."
His lifelong devotion to boxing has been recognised again in the New Year's Honours list with Barry made an officer of the New Zealand Order of Merit (ONZM) for his services to boxing and the community.
His contribution has been saluted before, with Barry appointed an MBE in 1995.
He has trained countless fighters over 50 years, after his own pugilistic ambitions were thwarted when he came down with rheumatic fever at around 12 years of age.
Barry was 23 when he began training fighters for the first time and it is a calling he loves to this day.
"It was the best thing I could have done," he said.
"My fighters have won many fights and I've met some wonderful people from all over the world. It's been great."
His most famous pupil remains his son, Kevin Barry junior, who won a silver medal in the light heavyweight division at the 1984 Olympic Games in Los Angeles.
Barry senior was in his son's corner, as always, when he won the semifinal in controversial circumstances over future four-time world heavyweight champion Evander Holyfield.
Barry junior won more than 100 bouts and went on to manage David Tua, who unsuccessfully challenged for the world heavyweight crown.
While Barry junior's profile inside and outside the ring may have outshone that of his father, Barry senior has always derived most satisfaction from the simple act of helping others.
"I have worked hard and gotten plenty out of it," he said.
"I never put anyone in the ring until I knew they were ready to go. I never told any guy that he had to fight.
"A lot of the guys I have helped over the years have only wanted to learn self defence. Even today a lot of guys need that.
"Boxing has done a lot of good for a lot of people," said Barry, who has also served his community in other ways.
He continues to teach fitness to Belfast School pupils twice a week and he and his wife of 50 years, Myra, helped organise a toy collection for under-privileged children in Christchurch for 16 years.
Barry was one of three people honoured with ONZMs for their services to sport, the others being Bruce Chambers of Auckland, and William Matson of Waikanae on the Kapiti Coast.
Chambers has helped administer triathlons at local and national level for 30 years while Matson's involvement with swimming administration at regional, national and international level goes back 40 years.
Another seven individuals have been made members of the New Zealand Order of Merit (MNZM): Craig Baird (Australia, motor racing); Gillian Bannan (Auckland, golf); John Beaumont (Havelock North, swimming); Maurice Facoory (Auckland, speedway); Ian Jones (Auckland, rugby); Lynette Miles (Christchurch, netball) and Rex Sellers (Auckland, yachting).
As well, Queen's Service Medals have been given to Neale Ames, of Otaki, for services to lifesaving, and Dunedin's Rita Marlow for services to gymnastics.
- NZPA