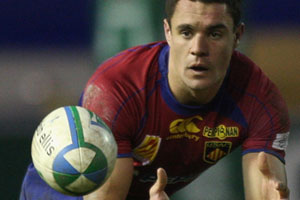 Gregor Paul outlined his rugby awards for the year last week - here he takes a lighter look at some of the stranger happenings during the year in rugby.
1. The Best Decision
The All Black coaching merry-go-round stunk to high heaven when it was announced, or quietly revealed in a nothing-to-see-here, let's-move-on-rather-quickly kind of way. But it worked. All three of the coaching staff - Graham Henry, Steve Hansen and Wayne Smith - found a missing edge and the All Blacks came to life.
2. The Worst Decision
Rushing Luke McAlister from the Junior All Blacks to the All Blacks before he'd even played for the former. McAlister had barely played in the previous three months and wasn't ready for what was being asked. That became apparent when he was awful against Italy.
3. Another Really Bad Decision
Believing Adam Thomson was an openside flanker. He'd been one of the best blindsides in the Super 14 and then found himself wearing No 7 against France in the first test of the year. You are really good at six therefore you must be good at seven, too, was the flawed logic. Duh!
4. Most Confusing Decision
Leaving Isaac Ross at home rather than take him on the end of year tour. Was he dropped or rested? Was he told to bulk up or harden up? Do the selectors still rate him or have they given up on him? And why did they burden him with calling the lineouts in his rookie season?
5. Best Meltdown
Graham Henry's halftime rant in Christchurch after the All Blacks produced the worst 40 minutes in living memory against Italy. Captain Mils Muliaina says his experience was vital - he knew to get behind Henry and not be in the coach's eyeline.
6. Second best Meltdown
Jimmy Cowan was a stroppy so-and-so when he captained the Highlanders against the Blues. He let referee Stu Dickinson frustrate him - easily done, but still, best not to let it show - and then the halfback snapped. He followed through late on Jimmy Gopperth (who tumbled magnificently) and Dickinson, with some glee, brandished the red card.
7. Biggest Shock
Scotland defeating the Wallabies. Come on, how could that happen?
8. Second Biggest Shock
The Chiefs reaching the Super 14 final. We all thought they would blow it long before then.
9. The Most Pleasant Surprise
Argentina finally being invited to join the Tri Nations from 2012.
10. The Biggest Scandal
French centre Mathieu Bastareaud claiming he was bashed by five thugs in Wellington after the test there in June. A major police investigation was launched before he remembered that he had in fact been hard drunk and fallen over in his hotel room.
11. The Second Biggest Scandal
The Super 14 jerseys were vile. How could anyone have signed off on them? The Crusaders' one with the sword running down the middle was horrible. But even that couldn't match the utter vileness of the Hurricanes change shirt. Let's not even go there.
12. The Best Quote
Steve Hansen after the win against Italy in June: "For my mind, we just take the win and be happy about that because test wins are to be valued. Be positive about the fact we didn't get any more injuries which is another big bonus and then flush the dunny and move on."
13. The Most Bizarre Quote
South African coach Peter de Villiers after the first test against the British Lions where he was criticised for emptying his bench too early in the game: "The same people who threw their robes on the ground when Jesus rode on a donkey were the same people who crowned him and hit him with sticks and stuff like that, and were the same people who said afterwards how we shouldn't have done that, he's the son of God. So that's exactly what we do. You have to look at history is repeating itself and I'm not saying that I'm God."
14. The Angriest Quote
Manawatu had been upset early in their clash with Hawke's Bay that a scrap between the sides ended up with one from each being sin-binned but the Magpies gaining a penalty. Fullback Kurt Baker was then incensed that Hawke's Bay were awarded a try later in the piece and let assistant referee Zarne Johnson know of his displeasure: "That's just rubbing it in, you cheeky little c**t. I'm going to punch your head in."
15. The Dirtiest Bastard
On any given year, it would be Bakkies Botha. But not 2009. Schalk Burger takes the award for his eye-gouging of Lions wing Luke Fitzgerald in the opening minute of the second test. The puzzling things about it were: a) Fitzgerald was no threat to the Boks. b) He didn't do it properly. If you are going to do that sort of stuff, (soccer mums, look away) stick the fingers right in. Feel the jelly on your fingers.
16. The Second Dirtiest Bastard
Sergio Parisse was presumably the inspiration for Burger because only hours before that second test against the Lions kicked off, the Italian No 8 had been rummaging around in Isaac Ross' eyes.
17. Best Performance of the Year (Team)
The Highlanders defeat of the Bulls in Palmerston North. It was straight out of Dad's Army as if Captain Mainwaring himself had been in the dressing rooms shouting, "They don't like it up 'em".
18. Best Individual Performance of the Year
Dan Carter was pretty special in Marseilles but two weeks earlier, in Toulouse, Ras Dumisani delivered the performance of the year. The Durban-born reggae singer gave the single-greatest rendition of the South African national anthem. Well, at least he thought he did. It was so bad, the South Africans filed a complaint, although Bryan Habana was struggling not to wet himself during the performance.
19. Best Single Act
Stuart Tinner wouldn't be a name known to anyone but Saracens - and that's because he cost them a bit of cash. The unlikely Tinner was chosen to take part in a halftime promotion during the clash between Saracens and the Springboks at Wembley. If he could punt the ball from 30 metres out and hit the crossbar then he would win £250,000 ($650,000). Life-changing money. But what were the chances - 1000-1? 10,000-1? Tinner slipped off his shoes, booted it with his socks on and slap - the ball thundered into the crossbar and he was a whole lot richer.
20. Second Best Single Act
Frans Steyn's outrageous long-range penalties in Hamilton.
21. The Most Honest Assessment of An Individual Performance
IRB referees boss Paddy O'Brien on how Stu Dickinson handled the All Blacks versus Italy game in Milan: "If the referee is not accurate, we've got to put our hand up. We need to educate that referee and get him better, because that scrummaging on Saturday was not up to international standard."
22. Why It Doesn't Pay to Provide Honest Assessments
Less than 48 hours after telling the world Dickinson had been hopeless, O'Brien was forced by his employer to grovel: "I have unreservedly apologised to Stuart Dickinson for the action of publicly discussing elements of his performance review and would like to extend that apology to the Australian Rugby Union. A clear and confidential best practice protocol exists for match official appraisal and feedback involving all stakeholders and I regret breaching this protocol."
23. The Best Paid Work
Dan Carter signed for Perpignan on a reported contract of €650,000 for six months. He ended up playing five games before injury struck so that was a cool €130,000 a game or $260,000.
24. The Best Paid Non-Work
Aled de Malmanche will have picked up close to $150,000 in All Black fees for approximately eight minutes of on-field action.
25. The Best Story
The legend of Brad Thorn just carries on getting bigger and bigger. Will it ever end? Well, yes it will, but the question really is - can he keep on going through to the next World Cup?
26. The Most Tedious Story
The provincial revamp/non-revamp. Will it be 10 teams, 14 teams or 16 teams? How many times can a competition be restructured? And how many times do we have to go through the pros and cons? Will to live... gone.