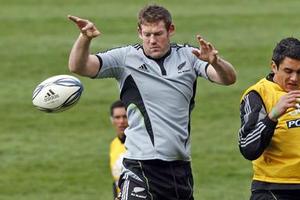 Gregor Paul springs a few surprises in his "best of" review of the rugby year.
Player of the Year
Casting the mind back brings up numerous candidates - but none who really made an indisputable claim to be considered the outstanding player of the year.
As always, there is Dan Carter and Richie McCaw. The former missed the first half of the year before coasting back into the game as if he had never been away. A last-minute penalty on his test return in Sydney; a commanding game in Wellington; some enormous defensive performances in Europe and then an outstanding night in Marseilles. His claim is strong – but not compelling.
The same is true of McCaw. The quality never dipped from the skipper but he has to be judged by different standards - his own, which are imperious.
Had it not been for a bad lull at the critical part of the season, Mils Muliaina would have been a shoo-in. His Super 14 form was exceptional and he peaked again on the end of year tour.
But, by his own admission, he was mentally flat in South Africa and his performances reflected his lack of energy.
Cory Jane was a class act every time he played and came of age this season. He can be proud of what he contributed.
Not even Jane, though, could match the contribution of Tom Donnelly who went from provincial stalwart to first choice All Black in the last few months of the year.
More importantly Donnelly took the greatest source of national embarrassment and transformed it into one of the most efficient and accurate lineouts in world rugby. The importance of that cannot be overstated.
The All Black lineout was an absolute shambles for most of the year. The test in Hamilton against the Boks will never be forgotten – the All Blacks went through 40 minutes of rugby without winning one of their own throws.
Test football was made impossible by the incompetencies of the lineout. The legacy of the All Black brand was at stake... things were that bad. How could all the critical values of the All Blacks be promoted to the world when they couldn't manage the simple business of throwing the ball and catching it?
Donnelly fixed all that. He simplified the process; made it seem as easy as it is by calling early, jumping early and not mucking about.
In Europe, the All Blacks barely lost a throw and that was against opponents who knew what they were doing.
There was more to Donnelly than just his lineouts. When he had to front physically against the likes of Simon Shaw and Sebastien Chabal, he stood up. He didn't buckle and he lived with the pressure of test football. He showed up well around the paddock and his core skills never faltered - just like a proper lock.
His country needed him and he delivered.
Coach of the year
Ian Foster came of age in 2009, using all his experience to select his squad cleverly and then judiciously shuffle his resources to keep them fresh and full of confidence through the season.
Todd Blackadder enjoyed an impressive rookie campaign with the Crusaders where he never lost his faith in what he was trying to achieve. His side were cast very much in his mould and, while they failed to achieve the standards of those set by Robbie Deans, the Crusaders of 2009 out-performed their own talents.
It was Manawatu, however, who looked the best-coached side in the country. Under the stewardship of the easily underestimated Dave Rennie, the Turbos were a side that knew what they were doing.
The backs passed the ball sweetly and timed their entry superbly. They had vision and enterprise and were tactically aware of what they were trying to do in various parts of the field.
Their results didn't always reflect their endeavour and it could be argued that as they only won four games, Rennie is a crazy choice as coach of the year.
But outcome is not the sole indicator of good coaching. Given Manawatu's comparative lack of resources and personnel, their achievement in winning four games was major.
Also, the likes of Aaron Cruden, Andre Taylor and Nick Crosswell all made massive strides as individuals and deserved their Super 14 call-ups.
Rugby Hero of the Year
Brad Thorn is a story without end. His effort shows no sign of diminishing. This year he played in every minute of the first 11 tests of the year.
He was rested for the Italian game and then played 80 against England and 65 against France. He only missed 95 minutes of All Black rugby in 2009. This from a man who will shortly turn 35.
He loves the final quarter of test football. He finds that is the time that the real men step forward - that well tuned engines continue to hum, kick into overdrive even. And his engine is well tuned.
Thorn doesn't drink. He stretches religiously, trains like a demon and looks after himself in every way he can. His professionalism is staggering.
But there is more to Thorn than his achievements on the field. He's the sort of bloke who seeks out his opposite after a test for a yarn. He talks openly and honestly and is unfailingly polite and respectful. He is a dedicated family man - with four kids under the age of six.
Referee of the year
It clearly wasn't Stu Dickinson. Nor was it Matt Goddard. In fact, how bad are Australian referees? There were two men who stood out.
Allan Rolland was a critical factor in the final All Black test of the season being as good as it was.
But it was Jonathan Kaplan who again showed he can take control, let the game flow and be fair to both sides.
Team of the Year
A bit like the players, there were several teams who enjoyed a good season without quite finishing what they started.
The Chiefs are obviously one of the strongest contenders; the perennial nearly men who know how to blow things early and then (not quite) storm back into the frame. They were desperate to break that pattern in 2009 yet they still lost their first three games.
They had a big mountain to climb from week four onwards but they managed to push on and on. Their season sprung into life in weeks six and seven when they hammered the Blues and Reds in consecutive weeks.
Sceptics, and there were plenty, were sure the Chiefs would melt down at some stage but they firmed up whenever the pressure came on.
Two victories against the Hurricanes in three weeks saw them reach their first final where they discovered they didn't have any gas left to face a rampant Bulls side and their season finished with a caning.
It was a sad way for such a strong campaign to end and gave the impression the Chiefs had gone beyond their abilities by reaching the final – which wasn't the case.
Still, that lack of conviction when it was needed most means the team of the year is Southland.
The Stags didn't quite finish their season the way they would have liked either. But they showed the most astonishing courage and commitment when they needed it most. Their performance in the driving rain of Christchurch to win the Ranfurly Shield for the first time in 50 years was the enduring memory of the year.
The rugby was raw but tactically brilliant. It was one of those nights where every tackle had to be made; every kick had to be chased, every lineout ball secured - and they all were.
It was a performance that typified Southland's ability to ensure the sum of their collective parts was always more than the individual components.
The union is supremely well run by long-serving chief executive Roger Clark and receives strong support from the local community and sponsors.
David Henderson and Simon Culhane continued to pull off the impossible task of co-coaching and turn out a side that played a lot of good rugby.
The Stags were far removed from the dour, forward-orientated sides of recent times. Sure, they had a solid pack who built the platform but they moved the ball well and used the width.
It is almost too hard to believe that at one stage last year, they were ranked the 13th team by the NewZealand Rugby Union.
Yet they made the last four in 2008 and followed it up in 2009 with another semifinal appearance and by winning the Ranfurly Shield.
They lacked stars but made it up for it in cohesion, commitment and pride.