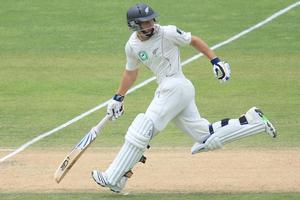 It's a dubious record. The Black Caps have used 30 opening partnerships in their 145 innings this decade.
It's not the worst record - Pakistan have used 42 in 150 innings over the same period - but it demonstrates the perennial search in New Zealand cricket for genuine openers.
Help is on the way. Not only did Tim McIntosh rescue his international career against Pakistan but new hope came from Northern Districts' BJ Watling in the third test.
True, the success there took place on what was generally a generous Napier pitch for batting.
Many astute judges will be waiting until a time when the ball is doing more but it's no secret the selectors are always desperate to identify potential at the top of the order.
They may have found some if the talent being shown by two young batsmen - Jeet Raval and Josh Brodie - is any guide.
One of the key flaws in the test line-up since Mark Richardson's retirement in 2004 has been the lack of an anchor or anchors at the top of the order who can see an innings through to a point where either a) a change bowler is limbering up with some trepidation at third man or b) red stains are evident on the odd pair of trousers as frustrated fielders try to administer more polish to a scuffed ball.
The two solid opening stands from McIntosh and Watling in the third test were a welcome respite to an appalling previous 16 opening partnerships from New Zealand, averaging 16.19.
But the 60 and then the unbeaten 90 partnerships offer hope for the remainder of the summer.
McIntosh and Watling were together for 26.1 overs then an unbeaten 19 overs, safely eclipsing the 11 balls the New Zealand openers had stayed together in the previous four innings in the series.
McIntosh's patient first innings of 74 was just what he needed, while Watling battled hard for 18 before his rash slash to gully in the first innings. The 24-year-old debutant then confidently made his way to 60 in the second innings, at just under a run a ball.
Former Black Cap and now New Zealand under-19 coach Chris Kuggeleijn mentored Watling during his school years at Hamilton Boys' High. He was pleased to see him come of age.
"I saw most of his first innings. I don't think he'll ever play that shot again in his life. He'd have been very disappointed with that. I don't want to sound smart but I said you don't have to worry, BJ won't let an opportunity go by. We saw more of that in the second innings. He's just got a good head and a sound technique."
RAVAL AND Brodie bring hope for the future. The two young openers are demonstrating application at Plunket Shield level.
Wellington's Brodie and Auckland's Raval are seen as players who want to open, which is considered half the battle, rather than treating the spot as a means to justify a middle-order end.
Raval's been through the national under-19 ranks and Brodie is noted for his patience. One source simply described him as "a tough little bugger."
Kuggeleijn watched the left-hander grind out an hour against ND at Seddon Park this season on his way to 69.
"It wasn't easy facing Tim Southee [who ended up taking 8-27] and co. He wasn't the worst, I'll tell you that. I liked him. He looked a real battler. He could judge where his off stump was, he was nice and tight and a tough man to get out."
Brodie's provincial coach Anthony Stuart agrees, for the most part.
"He's got a great temperament and can bat long periods. Josh made his debut late the season before [2007-08] and through sheer weight of runs in club cricket we contracted him. He's a really determined 22-year-old. Over his career as an opener, he's going to play and miss a bit but he has the ability where that doesn't faze him and he's capable of moving on to the next delivery.
"As a top order player you've, got to be good on the cut and the pull and he's developing those, but it's now a matter of converting his 60s and 70s into hundreds. He still needs to score a lot more runs but he's fit and works hard on his game. Some time in the future, he'll make it."
Raval, 21, who emigrated from India's Gujarat province five years ago, has been identified as a player of similar promise - and with the same problem - by his coach Paul Strang.
"There is one failing and that is getting out in the 60s and 70s," says Strang. "That's because when you're younger, 70 is seen as a job well done.
"But you've got to do better than that. We understand Jeet's still at the beginning of his career and with his work ethic and, with what he's shown us over the last couple of years, we think he's one for the future.
"From a coach's perspective, he's everything you want from a young player. He learns quickly from errors and is always looking for advice. He has a reasonable level of concentration for someone so young and that's proven by the fact he's already passed 200 in a first class innings. He's solid on the short ball with his pull shot and, as a left-hander, he also likes leaning on the ball coming across him so he can cover drive."
Raval scored 256 for Auckland against Central Districts last season in what was only his third first-class game. He also made a century last week against Otago. Certainly no one can deny him his opportunity, which has really only come about with the elevation of Martin Guptill to test level.