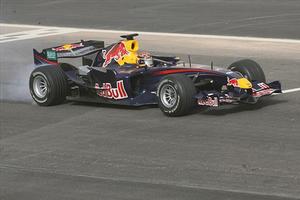 What a hectic year in motorsport both for New Zealanders and for the sport itself. We've seen the highs of a young Kiwi gaining his Formula One super licence swiftly followed by F1 sinking to its lowest moral ebb in a very long time.
When people talk about sport being a theatre of drama, it doesn't just relate to folk running around chasing oval or oddly shaped balls, being in or on the water, chucking various things through the air or legging it around oval tracks.
It also includes motor racing, because as a small nation, New Zealand, per head of population, has punched well above its weight since the days of the early 1920s when we sent motorcycle racers to the Isle of Man TT.
Last year Scott Dixon completed another milestone for Kiwi motorsport, becoming the first Kiwi to win the Indianapolis 500.
His achievement there put motorsport at the forefront for the 2009 Halberg Awards.
Although Dixon missed out on the supreme award, he did beat out Olympic board sailing winner Tom Ashley, Beijing individual pursuit silver medallist Hayden Roulston, US Amateur Golf Champion Danny Lee and 1500m Olympic bronze medal winner Nick Willis to win the Sportsman of the Year category.
Continuing with the open-wheeler theme, where for a spell Hartley was the official reserve F1 driver for Red Bull Racing and Toro Rosso teams, other young Kiwis have been making their mark in Europe.
Chris van der Drift continues to perform strongly in the World Series by Renault.
Matt Halliday put the frighteners up a few of the more-established Porsche Super Cup (support race at F1 events) drivers winning the rookie of the year championship and finished in the top 10 despite missing a number of races.
Earl Bamber had a number of successful tests in Europe and TRS star of the Hamilton 400, Richie Stanaway, has a deal locked and loaded to race in the Formula ADAC Masters championship with the Volkswagen Factory-assisted Ma-Con Motorsport Team.
Closer to home, 15-year-old Mitch Evans became the youngest ever winner in 58 years of an Australian Formula 3 and Gold Star race. Evans was also the find of the Australian Formula Ford season, finishing second in his rookie year.
But as for Formula One itself - a year to forget would be a fair comment. It hasn't so much been a case of baring F1's soul, more like emptying the closet out of every skeleton it's got.
Forgetting for a moment all the spying dramas, legal wrangling and infighting - the bloody great cherry on the cake was the allegation and subsequent admission that Renault's top management had colluded in telling Nelsinho Piquet to deliberately punt his car into the wall allowing Fernando Alonso to win a race.
When the Weekend Herald, in an exclusive interview with F1 puppet master Bernie Ecclestone asked about such practices, he replied: "The standard of the sport is the same as it always has been. The sport doesn't need to recover from anything because it hasn't been damaged. Things that perhaps went on years and years ago are known now because we are so super-professional. We keep our eye on every single thing.
"Homosexuality has been going on for years and years; and years ago nobody knew anything about it. Then all of a sudden things come to light, and when it's all brought to light people start looking at things and making sure people are following the rules or not."
Only Ecclestone could put such a spin on things.
Defending IndyCar champion Dixon's defence of his 2008 title started badly and after two rounds he was well down the table. He soon put the early season dramas behind him and resolutely climbed the table to be in contention for the 2009 title.
Dixon's teammate Dario Franchitti and Aussie Ryan Briscoe swapped the point's lead 14 times over 17 rounds before Franchitti prevailed at the last race of the season leaving Dixon to having to settle with finishing second.
And as for the A1GP World Cup of Motorsport, less said about that dysfunctional bunch of incompetents the better.
The Weekend Herald mentioned back in January that if punters didn't get down to Hamilton to watch, it would probably be the last chance Kiwis would be able to see scaled-down versions of F1 cars on our soil.
Not only did Black Beauty finish a dismal seventh after two years of being runner-up, but the first three rounds of this year's series were cancelled amid behind-the-scenes wranglings and financial worries. The writing is not just on the wall for this troubled series, it's etched in stone.
Moving on to the tin-tops, aka the Australian V8 Supercar championship, the boys from the Land of the Long White Cloud had, on balance, a year to forget.
Other than Jason Richards, who finished 12th in the series and bagged another second at Bathurst, it was a forgettable season.
Shane van Gisbergen showed flashes of brilliance and will no doubt improve, Fabian Coulthard is with a new team and with the right backing could go places while Kiwi V8 icon Greg Murphy has moved to Paul Morris Motorsport where his new car will be built in conjunction with V8 Supercar championship-winning Triple Eight Race Engineering.
He will be in good hands as Triple Eight helped Jamie Whincup to his second consecutive series championship this year.
The New Zealand V8 title chase went down to the wire at the last round, and the last race of the day, where Kayne Scott successfully pipped defending champion John McIntyre to win his second championship.
Sebastien Loeb showed again why he's the best rally driver of his era by winning his sixth World Rally Championship title. The WRC is also going through some changes and when it arrives back in New Zealand next year, will feature both the current cars and the new S2000 models that will eventually replace the present factory specials.
New Zealand rally Queen Emma Gilmour almost showed the Asia Pacific Rally Championship drivers a clean pair of heels, but had to settle for second in the series behind her teammate Cody Crocker.
On the domestic front, Hayden Paddon won the New Zealand championship and also the chance to follow in the footsteps of fellow Kiwi Mark Tapper and compete in selected rounds of the PWRC.
Yet another whose name will join the greats of motor racing is MotoGP rider Valentino Rossi who held off all challengers to win his seventh world championship in the top class, his ninth in total.
Former champion Australia Casey Stoner pushed him hard early in the season until he had to miss three races due to illness. On his return he proved to be as fast as ever, but the lay-off cost him too many points.
Josh Coppins continued in his attempt to win an elusive world motocross MX1 crown but again fell short finishing his season in sixth. All is not lost though; Coppins will be back next year with Aprilia for one last tilt at the title.
Former MX2 world champion Ben Townley has recovered from injury and has signed a deal with a US team to see if he can go one better than his 2007 AMA East Coast Lites title. He's set to contest the AMA Outdoor Motocross championships after competing in the first two Grand Prix of the MX1 world series in Europe.
In August, New Zealand hosted the FIM Junior World Motocross Championships for the first time and local rider Hamish Dobbyn finished third in the 125cc class and is the first Kiwi to stand on the podium.
Thirteen-year-old Courtney Duncan's sixth place was the best ever by a female in a Junior Motocross World Championship event and she finished fourth in the second race.
The Australians still have a firm hold on the New Zealand motorcycle road racing championships with Robbie Bugden winning his third national title. He again kept local rider Andrew Stroud back in second place.
On balance a good year for Kiwis in general with a crop of fast youngsters making their way internationally and a few established drivers and riders holding their own.
There is lots of potential for Kiwis to really take the motor racing world by storm in 2010.