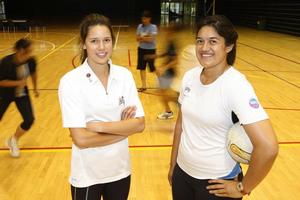 For the past six weeks, the Northern Mystics have been going through the pre-season grind as they build towards next year's transtasman league.
Every morning from 7 to 8am, the players can be found slogging out on the track or in the gym, developing their endurance for the gruelling season ahead.
It's all old hat for most in the team - a mundane but necessary reality of being an elite netballer.
But for 17-year-olds Kayla Cullen and Sulu Tone-Fitzpatrick it is a new and exciting experience.
The unheralded pair are set to be thrust in to the world of semi-professional netball next year.
Mystics coach Te Aroha Keenan is taking extra care to ensure the youngsters are prepared to make the massive step up.
It means daily strength and conditioning sessions with the team's trainer, twice-weekly skills sessions, appointments with nutritionists and team-building exercises.
Despite an aversion to early morning starts, Cullen is finding the new regime "tough, but fun".
"It's been pretty hard but it's getting easier," said the Auckland teen, who has not long finished high school.
"I always trained heaps last year, but not at this intensity. I kind of just did my own thing last year but now it's more structured and I have to follow a programme and make sure I do it, otherwise I'll get in trouble."
The athletic shooter said it has been a relief to have Tone-Fitzpatrick alongside her in the team, also experiencing everything for the first time.
Tone-Fitzpatrick, who has just finished Year 12 at St Cuthberts College and will be deputy head girl there next year, is a promising defender.
"If I didn't have her I think I would feel a bit lost. It's nice to have someone my age who is new to it all as well," said Cullen.
But Cullen said she was also enjoying the opportunity to train alongside her Mystics teammates, who include Silver Ferns Temepara George, Maria Tutaia, Joline Henry and Larissa Willcox.
"They're all really helpful and encouraging."
The inclusion of the pair in the Mystics line-up appears to part of a wider trend among the New Zealand franchises, which have this year proven more open to taking a punt on young players.
Top young defender Amy Christophers of Tauranga has been plucked from obscurity to play for Waikato/Bay of Plenty Magic next year, while Southland shooter Ashleigh Smith has signed with the Canterbury Tactix for 2010. Both have just finished high school.
Netball New Zealand high performance director Tracey Fear believes the makeup of next year's squads indicates there has been a change of thinking among the Kiwi franchises.
She said the teams are beginning to see the benefits of developing young talent rather than relying on semi-retired players to plug the gaps in their squad - something Netball New Zealand is thrilled to see.
"I think it's great franchises are looking to develop young players and that's the aim, it's meant to be a pathway to developing elite players in New Zealand," said Fear.
"It's not just the four who are just leaving secondary school, we've also got a number of under-21 players that are in franchises - probably more than we've ever had. And to have nationally identified young players in franchises is fantastic."
But it's not always in a player's best interests to be elevated into top-level competition so young.
There have been examples in the past where promising players have been left to flounder on the bench and, as a result, their development has stalled.
Fear said these talented young athletes need to be carefully managed to ensure they are not simply left to sink or swim in the franchise environment.
"There's a number of players in there that are in our national programme as well, so particularly for those players it is a case of us working together with the franchise coaches so that we do have a really co-ordinated approach to their development, so that we can support them within the franchises to get that extra development they'll need to fast-track them to the next level."
But she stresses it is not necessarily a bad thing either for these players to spend all season on the bench, so long as they are getting playing opportunities elsewhere - like in the case of Christophers, who will turn out for Bay of Plenty in the Lois Muir Challenge early in the season.
But for all the extra support these players will be given, New Zealand's development pathways still look a little haphazard when you compare them to Australia's.
With each state operating their own academy system, and the Australian Institute of Sport churning out top young players each year, Australia's rising stars are entering the ANZ Championships better prepared for the demands of elite netball.
"In terms of a structure like the AIS, it's not an option for us, but our view is that each franchise is a performance centre in their own right and we have the opportunity to have five of those throughout the country," Fear said.
"So I think by us working more closely with the franchises to support a performance environment, we hope that more players will be given the opportunity to develop and realise their dreams of being a professional netballer."