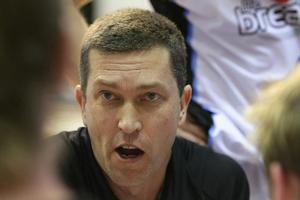 To blend a bit of Yogi Berra with Bill Murray, tonight's match against Townsville on the North Shore is like Groundhog Day all over again for the Breakers.
Having dug themselves out of a hole with a miraculous comeback in Adelaide to level their season ledger at 8-8 on Saturday night, the Breakers are still well in the playoff hunt.
But to stay there they need to win tonight, particularly with a treacherous run of four consecutive road games to come before they next return to Auckland in mid January.
The Breakers have avoided prolonged slumps, never dropping more than two consecutive games. But likewise they have failed to post a winning streak longer than two matches.
The result has been a season utterly bereft of momentum, with line-in-the-sand matches - like tonight's dicey encounter with a Crocs side they have beaten twice already this season - an almost weekly occurrence.
The Groundhog Day cycle hasn't been lost on coach Andrej Lemanis.
"We've got a one-game winning streak now and if we can take care of business [tonight] and on Saturday [against Melbourne] then things will be looking pretty good for us heading into the Christmas break," Lemanis said.
"But if we drop them both we are back in the hole.
"It is at the stage where we need to start getting it done and pushing towards the higher end of the ladder. It is all still so close but if you can just get a little bit of a run going you can head up the ladder in a hurry."
Whether a Breakers side that has struggled to close out games they should have won comfortably has a winning streak in them remains to be seen. About the most positive thing that can be said about the side that has not come close to justifying their favourites tag is that each time they have gone close to being counted out, they have come off the ropes swinging.
Both the Breakers and the Crocs have bucked this season's trend of home advantage proving decisive. The league's away-day specialists, the Crocs have posted twice as many road wins (four) as any other side.
The Breakers have split their past four matches 2-2, with victories coming on the road - against Townsville and Adelaide - and the defeats at home.
Those fourth-quarter reverses against Perth and Wollongong may come back to haunt the Breakers but, with seven of the 11 remaining matches after tonight on the road, the fact they have rediscovered the ability to win in their opponents' gyms could be crucial. Their next assignment is on Saturday against a Melbourne club languishing in last place but boosted by Chris Anstey's return. They then have New Year's Eve on the Gold Coast with the Blaze club that has recruited Tall Blacks centre Craig Bradshaw to replace injured Pero Cameron.
With their New Year schedule beginning with two games in three days against pacesetters Wollongong and Perth, the Breakers will need to maintain their encouraging road form to be in the playoff.
'I don't think we ever doubted ourselves, we can go on the road and win," Lemanis said. "Obviously it is disappointing having lost those last two home games and we want to rectify that [tonight]. But the competition is so close - this thing is going to go right down to the wire."