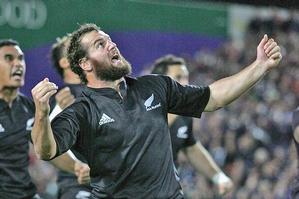 Tis the season to be jolly, and it's been a jolly good year for the All Blacks and our rugby union.
In summary, the All Blacks have been nigh on perfect.
But for France's latest piece of skulduggery in ambushing our brave lads when Richie McCaw and Dan Carter weren't about, South Africa's insistence on kicking the ball against the spirit of the game, cheating Italian props, and the dire need to play second-rate footballers against the Baabaas, the mighty men in black could have been rated as absolutely brilliant in 2009.
It's also been an exceptional year for the administrators.
They are almost there in sorting out the national championship - one feels confident in saying that it will take only 10 more years of consultations before the NZRU has a rough blueprint it can take back to the game. It really is a relief to feel that we are all so close to a solution.
Which leaves just one major situation to sort out.
Will Carl Hayman come home to play in the World Cup?
The bearded behemoth, who is captaining the English club Newcastle these days, is regarded as the missing link in the master plan that will see the Webb Ellis Cup paraded up Queen St and a town near you in 2011.
Yes, some of these master plans have come unstuck at previous World Cups, but this one is a sure bet. Honest.
Loath as this column is to give advice to the NZRU, here's a way of ensuring Hayman plays in the cup: if worse comes to worst, follow your own lead and ignore your own rule.
There are all sorts of rumours about Hayman's return, including that the good people of Taranaki are prepared to give him a farm as an inducement.
And there's no greater honour in this country than being given a farm.
Failing that, though, should Hayman not meet New Zealand's increasingly loose criteria that you have to play here to be eligible for the All Blacks, just pick him anyway.
In 100 years' time, or even two years, nobody is going to care how we won the cup. It's whether we won it or not that will count.
The NZRU could go three ways on this.
It could just blank its own rule, which it does anyway with innovative schemes such as the overseas "sabbaticals" for Dan Carter and anyone else deemed famous enough.
Or it could simply scrap the residency rule, a la the coaching residential back track.
Failing those, the NZRU could introduce a loophole with a snappy title like "We Need Carl Hayman in the World Cup Team Dispensation Clause".
The residential rule has a purpose, but it doesn't cover every situation - like this one. And the sabbaticals have rendered it a laughing stock anyway.
The way the cheating Italian props demolished the All Black pack proved once and for all that they need Carl Hayman in the front row. There's no mileage in getting the IRB to bail out your beaten frontrowers after losing a World Cup game - we need troops who will take the necessary action on the field.
The public won't care how the selectors get Hayman in, but they'll be furious if he's parked up in the stands while the pack goes pear shaped on the big stage.
The All Blacks are duty bound to field the best-possible team at the World Cup.
The safe bet is that one way or another, Hayman will be in the squad. If the NZRU can fast track Luke McAlister back, it can fast track the best tighthead prop New Zealand has had for yonks, one of the very best frontrowers in the world, into the World Cup team.
An All Black team just isn't a genuine All Black team right now if Hayman isn't in it. So get him in, by hook or by crook. We won't accept anything less.
On the subject of jolly - it's jolly annoying to find out that Iain O'Brien is quitting the Black Caps just as his career is taking off.
This column is an avowed fan of the Wellington wonder, and it's mighty disappointing to find out that he is departing, even if it is in the honourable interests of love and marriage.
There is something just not right about the way this whole thing has played out, and what feels like a lack of desperation in keeping O'Brien somehow involved. Instead it's been a sort of ho-hum, see you later mate, have fun.
The guy has been a revelation - his average isn't top notch but he is looking more and more like a really good test bowler by our standards.
On an occasion like this you have to cast your mind across the Tasman, and wonder if a late-blooming Aussie would suddenly kiss the test team goodbye and pack his bags for Old Blighty.
The Aussie cricketers treasure the baggy green. The Ockers live to play for their country, and it shows.
On a similar note, there is heartening news from England, where Stuart Broad and James Anderson have turned down the IPL's big bucks to keep themselves fresh for the next Ashes series. You wonder if it is still not too late to revisit O'Brien's situation with a "your country needs you" plea.
Beyond that, good luck to Iain O'Brien. He showed that there are rewards for persevering in the provincial competition, and he's graced the game with a wonderful demeanour, not to mention his unusual blogs.
The cricket series between Pakistan and New Zealand has been both fascinating, nail biting and a fillip for the test game, which needs all the help it can get. An even duel always helps in these matters.
And praise here for the Sky cricket commentary team which, aided by a fine contribution from the legendary Pakistan fast bowler Waqar Younis, has been in top form.
Martin Crowe - whose analysis leads the way - Simon Doull and Ian Smith are the heart of this operation, creating a unit that is world class and represents the best in New Zealand sports commentary.
It's been suitably analytical and entertaining. A highlight was also the excellent induction interview conducted by Mark Richardson with new commentator Craig McMillan during the first test.
Richardson inquired how McMillan, a critic of critics in his playing days, had made such a rapid conversion to the commentary chair.
McMillan replied that once out of the dressing room and the bubble that professional sportspeople live in, it was natural to take a wider view of the world. Interesting stuff.
There might be increasing scrutiny of the way football goalkeepers move while penalties are taken, and this is something Fifa should consider carefully leading up to the World Cup in South Africa next year.
Many goalies are getting away with illegal moves off their line which is distracting and cuts down the angle for the penalty taker.
In the English Premier League at the weekend, Stoke keeper Thomas Sorenson launched himself forward outrageously before the kick had been struck. With this unfair advantage he managed to block the penalty strike of Wigan's Hugo Rodallega.
The odds should favour the penalty taker - after all, the spot kicks are awarded because a royal goal-scoring chance has been illegally denied.
It's difficult to work out why football does not demand that linesmen police the goalkeepers, and also watch out for players encroaching in the penalty area, when spot kicks are taken.
Penalties are bound to be a major issue at the World Cup to the point that the former Southampton footballer Matt le Tissier has offered himself to England as a specialist penalty-taking coach.
Le Tissier, who played a handful of games for England, was a beautifully skilled player for Southampton with a remarkable record of converting 47 penalties from 48 attempts.
He's mystified why penalty taking is not a specialty focus, which is a fair point.