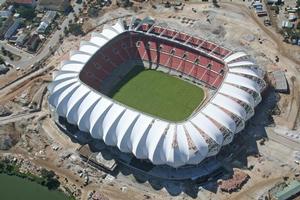 The head might tell you to use the money for the house extensions or Johnny's new bike, but the heart wants to be in South Africa next June. Follow the heart.
Remember, it's been 28 years since New Zealand played at the World Cup and it could be another 28 before they feature again. This might be your only chance to see the All Whites at the world's biggest sporting event. It's bigger than the Olympics and Rugby World Cup combined and bigger, even, than a Wellington Phoenix game against Sydney at Palmerston North.
So pack the kids off to Grandma, learn that offside is not only something you will be with the wife, and invest the life savings in the World Cup. It will be worth it.
Travel
The first thing you need to do is get there. There are three international airports in South Africa - Johannesburg, Cape Town and Durban - with a number of carriers offering flights to the Republic.
The All Whites are likely to base themselves in Johannesburg between each match - all of their games are on the high veldt - and it might be easiest to do that given the paucity of accommodation in Rustenburg, Nelspruit and Polokwane. Pretoria, which is virtually an extension of Jo'burg, is another option.
Public transport will be organised to get to the games or you could hire a car or a driver for the duration of the tournament. Trains are limited and often slow.
The most common form of transport in South Africa is a Zola Budd - a minivan which picks and drops off people on the side of the road. It's cheap but difficult to understand and might take a while. Named after the famous South African athlete because they too could whizz past other road users at pace, they are also one of the main reasons for South Africa's high road toll.
A number of carriers fly domestically including British Airways and Dutch carrier KLM who have recently started operating.
Tickets
Even though more than 3.7 million tickets will be available for the 64 games across 10 venues, it pays to be organised.
There are four categories of tickets but only three are available for foreigners (Fifa have introduced a fourth category for South Africans priced at US$20 to make it affordable for residents).
Tickets are priced at US$80, $120 and $160 for group games and increase throughout the knockout stages. Tickets to the final cost US$400, $600 and $900.
New Zealanders shouldn't have any problem getting tickets to All Whites games. Fifa allocate 12 per cent of tickets to fans of each country playing and, given games involving us won't be the most sought after, it can be expected there will be more available.
Fans need to apply for tickets on fifa.com. They can go for as many as four tickets for up to seven games at the tournament so you're not just restricted to seeing New Zealand.
There are three main phases:
1. Ticket applications for group matches and some finals matches need to be in by January 22. All applicants have an equal chance of getting tickets and if matches are oversubscribed, they will be decided on a random basis.
2. If some matches don't sell out by January 22, they will then be available on a first-come, first-served basis until April 7. You still need to fill out Fifa's application form before tickets are confirmed.
3. From April 15 until the day of the match, Fifa offer a last-minute option if games are not sold out. Fans don't have to go through the application process so this is the only time you know instantly if you have a ticket.
Applications can also be made to follow specific teams. This can mean anywhere between three and seven games, depending on how far that team goes in the tournament.
In an effort to curb scalpers, supporters pick up their tickets only once they have arrived in South Africa and only using the credit card they bought the tickets with.
Accommodation
This is one area of concern, as the All Whites are finding out (they struggled to find a hotel; most suitable accommodation was already booked out). During June's Confederations Cup, it was estimated there was a shortfall of 15,000 beds for the World Cup. There is all manner of accommodation from one star to five star but just not enough of it, especially in the smaller centres of Rustenburg, Nelspruit and Polokwane where New Zealand play. That's why it might be easier to stay in Jo'burg or Pretoria.
Fifa have booked 46 per cent of all accommodation, so try fifa.com if you are struggling, but it would pay to get cracking on a place to stay.
Following the All Whites
New Zealand are in Group F and will play defending world champions Italy, Slovakia and Paraguay.
All of the games are on the high veldt outside of the main centres so you need to seriously consider how to get to games.
NZ vs Slovakia
June 15, 1.30pm (SA time)
Royal Bakofeng Stadium, Rustenburg
Capacity: 45,000
The All Whites played two matches here (Spain, South Africa) during the Confederations Cup.
Rustenburg is a curious 'city'. It doesn't feel like there is a city centre, rather a spread-out collection of towns - and there is a distinct lack of accommodation close to the stadium. There are a handful of lodges about 30-45 minutes away, like Kwa Maritane, as well as the Las Vegas-like Sun City.
It might be easier to stay in Johannesburg (121km away) and drive or get public transport to the match.
NZ vs Italy
June 20, 4pm (SA time)
Mbombela Stadium, Nelspruit
Capacity: 45,000
The Mbombela Stadium is probably the most unique venue and certainly the most African, with 18 roof supports that resemble giraffes and seating in the design of zebras. It will give a taste of what's around, given the Kruger National Park is on Nelspruit's doorstep. Nelspruit is 358km from Johannesburg - a four-hour drive or 55-minute flight.
NZ vs Paraguay
June 24, 4pm (SA time)
Peter Mokaba Stadium, Polokwane
Capacity: 45,000
The stadium was one of five new ones built for the World Cup and is 5km from the city centre.
It was named after a former leader of the ANC Youth League.
Polokwane is 331km from Johannesburg - about a four-hour drive or 55-minute flight. There is a concern over the availability of accommodation in the city, but given this will not be a high-profile match, chances are better than if England and Brazil were playing.
The easy option: If you can't be bothered sorting out all of the details yourself, you can book packages that include match tickets, travel and accommodation. A list of official tour operators is on fifa.com/touroperator. Emirates airline also offer this service (emirates.com).
Things to do in South Africa
Cape Town
New Zealand aren't playing there - the only chance would be if they miraculously made the semifinals - but it is a beautiful city and has marketed itself as the Party Town. Table Mountain looms impressively over the city centre, where all the after-match action will take place, and the Winelands area is less than an hour away.
Kruger National Park
No trip to central and southern Africa is complete without a game drive. The Kruger National Park is one of the biggest and best around. You can spot the Big Five - no, not Dave, Larry, Gary, Darren and Bryan - in their natural environment.
Soweto
Soweto (an acronym for South-Western Township) is a fascinating place and was the focus of anti-apartheid protests in the mid-1970s to the late 1980s. More than 3.2 million people live there, from beggars to millionaires, but only 100 white people call it home. It is safe and 1600 tourists visit the area daily.