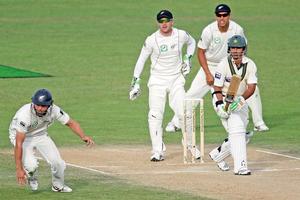 19:05pm: Pakistan close out day three without losing a wicket for 128 runs as they trail by 120 runs.
An important day for the tourists as they needed a solid stand from their opening pair to have any chance of taking the spoils in the decider to this series.
A terrific first wicket stand from Salman Butt and Imran Farhat who demonstrated excellent determination to survive the day, ending the day on 66 and 55 respectively.
Farhat maintains his fine form from the first innings whilst Butt redeems himself after getting out for a duck earlier.
The pitch conditions have suited the batsmen so tommorow will be another day for the pair to try and slash the New Zealanders lead.
18:45pm: More of the same from the Pakistani's with Butt pulling out to 65 and Farhat remaining on 50.
Martin Guptill, who bowls off-spin, has been given the ball to see if he can come up trumps with the Black Caps desperate to break up the opening combination.
Farhat's 50 came off the back of eight fours without any sixes, while Butt's innings has produced 5 fours and a single six.
Pakistan close the 51st over on 122 without loss.
18:25pm: Pakistan openers Imran Farhat posts his 50 and Butt (57) keep New Zealand continue to cramp New Zealand's hopes of a grabbing a wicket before the day's end.
Pakistan stroll to 118 without loss, Southee and O'Brien have lately been at the pair with the ball - with little luck.
17:50pm: An excellent stand from Salman Butt (50) and Imran Farhat (44) as they continue their dominance out in the middle of the park.
Butt's 50 is a healthy return to form for the opening batsmen after going out for a duck in the first innings.
Both man have been solid and stoic in keeping the Black Caps bowlers in check without any hiccups in this second third session of play.
Farhat should follow his partner to fifty on the way things are going.
The opening duo have led Pakistan to 107 without loss to trail New Zealand by 140 runs.
Can New Zealand strike back with a wicket?
17:20pm: The opening pair of Farhat (39) and Butt's (41) continue to frustrate the New Zealand bowling attack as they both move towards half centuries and a 100 runs partnership.
They trail New Zealand by 162 runs with 86 runs on the board without loss.
Daniel Vettori and Daryl Tuffey are the latest bowlers to try their hand at beating the two batsmen.
16:47pm: As the two side's break for tea, Pakistan sit at 72 without loss after 24 overs.
Their current run rate stands at 3 runs per over.
16:30pm: Farhat (30) and Butt (30) look in total control out in the middle and have clawed the lead back to 180 runs as they sit on 68 without loss.
New Zealand really need a wicket soon to stop the progress of this partnership, as it could be the pairing which gets Pakistan back in the frame of winning this decider.
They didn't look to have a decent chance after New Zealand's first innings, but these guys could change the complexion of the match if they hang on.
16:10pm: Imran Farhat (22) moves Pakistan past the 50 mark as they end the the 15th over 54 runs without loss.
Salman Butt sits on 30 as they continue to fightback the lead that New Zealand posted from their first innings.
Captain Daniel Vettori has introduced himself in to the bowling attack to find a way through the pair's resistance.
15:50pm: Southee and Martin are having little luck making the vital breakthrough the Pakistani pair of Farhat (16) and Butt (20).
The pitch is offering little to these pace bowlers, Pakistan have the beeter of the conditions to claw this lead back.
15:25pm: Farhat (7) and Butt (8) have started the second innings slowly at 15 runs without loss.
A steady beginning for Pakistan as this pair really need to establish a solid base for the side's run chase.
Chris Martin and Tim Southee began the second innings with the new ball.
14:55pm: New Zealand are all out for 471.
Three overs after the restart of the second session, Iain O'Brien (19 and Chris Martin (duck) both lose their wickets to Danish Kaneria.
Tuffey ends on 80 runs his highest batting total ever on the international stage, a great achievement from the medium paceman.
Kaneria was the shining light for the tourists picking up seven wickets for his 53 overs.
A handy lead of 248 runs for the Black Caps with Salman Butt and Imran Farhat to lead Pakistan's run chase.
14:05pm: O'Brien and Tuffey have been resilient out in the middle for the Black Caps playing the total out to 462 runs for eight at the lunch break.
Tuffey has been the surprise package to the New Zealand's batting performance today scoring 75 runs, his first test century looks an achievable target.
With 30 overs bowled, the run rate sits at exactly 4 runs per over with the lead now at 243 runs.
Iain O'Brien in his last test match at international level has contributed 18 runs.
A poor performance from Pakistan who look lack lasture out in the field with only the super Umar Akmal catch their only reason to cheer in today's first session.
13.37pm: Tuffey brings up his 50! His first test match half century for the man who is more renowned for his talent with the ball in hand.
Iain O'Brien has joined Tuffey at the crease and has taken up the role support, with six runs of his own.
New Zealand are 432 for eight with a lead of 209 runs with two wickets remaining.
13.12pm: Another one bites the dust! Tim Southee's out for a duck, caught leg before wicket from Danish Kaneria.
New Zealand are at 409 for eight, Kaneria and co will look to quickly wrap up the tail end.
13.07pm: Wow! A ripping catch from Umar Akmal dismisses Daniel Vettori for 134.
Akmal's taken a superb one handed diving catch at extra cover to end a brilliant innings from the Black Caps skipper.
Bowler Mohammad Asif's estatic after that one, a welcome relief for Pakistan as they were desperate for a wicket.
13.05pm: New Zealand finish their first hour at 407 for six.
Daniel Vettori (134 runs) and Darly Tuffey (37) have had few scares in today's first session although Pakistan's Danish Kaneria has been unlucky not to pick up a wicket despite some good bowling.
12.40pm: Daryl Tuffey is doing well as a supporting actor to Daniel Vettori as he moves up to 25 runs.
New Zealand push out to 380 for six and look to be heading to the 500 runs mark with Vettori coming up with a fine captain's knock.
12.10pm: New Zealand start the third day 123 runs ahead, thanks largely to the terrific batting of skipper Daniel Vettori who ended yesterday 100 not out at stumps with New Zealand on 346 for six.
With three overs played already, Daryl Tuffey and Vettori have pushed the lead out to 358 for six.
Umar Gul and Danish Kaneria have opened the bowling for the Pakistan today.