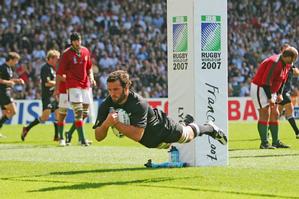 It's all beginning to come together for the All Blacks. The mid-season crash is all but forgotten. The fear of failure, of a legacy in danger has passed.
The All Blacks are building something - a team that has enormous potential; a team that could peak at the right time for once.
They have just about everything they need. There is an iconic captain in Richie McCaw, who, barring injury, will surpass Sean Fitzpatrick next year as the most experienced test captain in All Black history.
There is a glut of locks; a real battle for the blindside jersey with two contrasting players in Adam Thomson and Jerome Kaino, and Kieran Read is maturing into a quality No 8.
Dan Carter is Dan Carter and Ma'a Nonu and Conrad Smith are becoming the new Walter Little and Frank Bunce of the All Black midfield - a partnership that is of greater value than the individual component parts. There are genuine footballers to pick in the back three and some depth coming through with Zac Guildford and Ben Smith.
Jimmy Cowan has become a feature at halfback, Andrew Hore is marvellously consistent and Tony Woodcock is rarely in trouble at the set piece.
It's all there then, except for one critical piece. The All Blacks need Carl Hayman back. They need a foundation stone tighthead; a prop who holds the scrum rock steady; even gives it a destructive edge.
Neemia Tialata turned his season and career around when he got himself fit in August and played as well as he ever has on the end of year tour. There is a chance he could become a good All Black; a reliable performer who will do all asked of him.
Owen Franks is already a handful at 21. He's strong, aggressive and technically he goes okay.
But reliability from the respective tightheads only gets the All Blacks so far. They need more than that to return the heights reached in 2005 and 2006.
Back then, they were a side that used the scrum to dismantle opponents. The French were mentally scarred by the poundings they took in 2004 and 2006. The Wallabies were all but beaten in the changing sheds during that period. They knew they were going to be hammered in the scrums to the extent they were happy just to get the ball out.
It made it challenging for them to launch meaningful attacks from the scrum and invariably they would be scrambling backwards and concede possession.
Even South Africa were troubled by the power of the All Black scrum and that little seed of doubt that comes from facing a superior set piece can spread through the psyche of a side.
Neither Franks nor Tialata possess the power, technique or reputation to jump into opponents' heads. Hayman does.
Even now, despite the fact he's been out of the test frame for more than two years, he's a name that instantly sets other props on edge. He's still viewed as the best there is.
In that golden period for All Black rugby, Hayman's importance was perhaps never fully understood. There was McCaw, Carter and Tana Umaga to distract. We all knew what they did - their work was out in the open, easy to appreciate and admire.
Hayman's presence was made to tell slowly. He would grind, he would graft and in time he would dismantle opposition front rows and leave them gasping for air, desperate to be somewhere else.
The All Blacks desperately want that back. Their scrummaging was mixed on the end of season tour.
In the critical game against France, they were strangely erratic in their scrummaging: toasted in the first two and then capable of shunting the French back five metres to create Jerome Kaino's critical try.
Erratic is no good. The All Blacks are after a power scrum that delivers and then delivers again and they believe they will get that with Hayman.
That's why coach Graham Henry met Hayman when the All Blacks were in London. Henry wanted to make sure Hayman realised just how much he is valued back home - how much the All Blacks want him.
"It would be great if Carl came home because he's world-class, probably the best tight-head prop in the world," was Henry's comment after their meeting.
There have been reports since that Hayman has all but agreed to return to New Zealand in June 2010 and resume his All Black career. That's been the expectation almost since the day he left for Newcastle.
An All Black at 21, Hayman reached 2007 with 45 test caps under his belt and a certainty he needed a break from a life that had become routine.
Newcastle were prepared to offer him close to $1 million a season (as the exchange rate was back then) and the thought of doing something different for a while and setting himself up for life financially was too hard to resist. But it was only ever going to be for a while.
Hayman left when he was 27 and he's only just turned 30. His Newcastle venture always had the feel of an interlude - space for him to recharge and come back to his test career.
Surely he must be aware of the overwhelming regret he would feel watching the 2011 World Cup from Newcastle?
The tragedy would be too great but the All Blacks have been careful not to lean on him too hard.
"He's the sort of guy who makes his own mind up. He's not the sort of guy you coerce into anything," All Black assistant coach Wayne Smith said early in the end of season tour.
"And you don't want players to be talked into coming back, you want players who really want to come back.
"Carl knows that he'd be welcome back. He's been a great All Black and we love him. He's just got to make his own mind up."
Everything points towards Hayman making the commitment to return in June next year and resume his test career in the Tri Nations. But that's only half the story.
For all the praise that has been lavished upon him, for all that he has achieved, he will have been out of test football for almost three years by the time he gets back.
It's not that he won't be able to handle the demands of international rugby again, more a case of how long will it take him to find his feet?
The Guinness Premiership in England is a set piece-driven game and he won't have had an easy time at the scrum. He'll have been challenged most weeks he's been in England but the pace and intensity won't have been the same.
His integration can't be rushed the way Luke McAlister's was. If Hayman comes home, the expectations have to be initially lowered. He'll need the back half of 2010 to adjust.
And if the transition is smooth, the management careful, it will be the rest of the world that needs to adjust in 2011.
The All Blacks with Hayman, an older, stronger, mature, technically refined Hayman, will be a different side to the one they are now.
Hayman's homecoming
Five things for Carl Hayman to ponder about a return
1: He will have to take a pay cut. His contract at Newcastle is worth £330,000 a year, or $760,000. The New Zealand Rugby Union will stretch themselves to lure Hayman but are unlikely to find that kind of money. His likely package in New Zealand will be between $500,000 and $650,000.
2: Having played all his Super Rugby for the Highlanders, Hayman is thought to be interested in playing somewhere else if he returns. The Hurricanes have made inquiries, as Hayman could be keen on joining Taranaki - where he's from - and balancing his rugby with work on the farm.
3: Having just turned 30, Hayman has plenty of rugby left in him. Would he be returning with a view to going through just to the 2011 World Cup, or does he see himself as becoming an All Black great and stretching his career beyond that - maybe even to the 2015 World Cup?
4: If he doesn't return to New Zealand next year, what are the alternatives? He could stay with Newcastle, a club that has struggled for the past decade, but may be building something now. Or he could switch to another English club, or move to France, where he would be hugely appreciated.
5: Does he still feel he is good enough to play test football? Does he still have the hunger and passion? He needs to be sure that his desire is there and that he wants his jersey back.