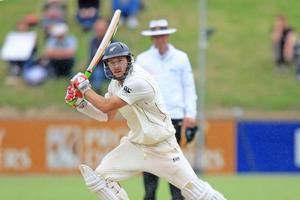 All pre-test talk about batsmen rocking up to their field of dreams for the deciding third international between New Zealand and Pakistan stopped abruptly when the pitch was revealed yesterday.
Last season, two tests against the West Indies and India produced 2673 runs and eight hundreds. Oh happy days, if you make your living wearing pads.
It's a safe bet that won't be happening over the next five days, partly because the pitch has plenty of grass to encourage the seamers, and partly because neither side have produced anything remotely like five-star quality batting so far in the series.
Groundsman Phil Stoyanoff reckoned yesterday it has more grass on it than any other test pitch he has prepared in his 11 years on the job.
It is the sort of strip to have fast-medium bowlers licking their lips, although batsmen good enough to get settled and take advantage should also enjoy it.
New Zealand captain Dan Vettori has no complaints. He likes the look of the pitch, and the intent behind keeping more grass on it.
"We've played on some pretty tough decks out here in favour of the batsmen, so I think the balance will be a lot more even," he said yesterday.
And he agreed that the toss won't matter much, given that the seamers are likely to get plenty of help for much of the match. Vettori spoke with the keen eye of a No 6 batsman, which he will be today, in a plan to have five specialist bowlers.
Earlier in the series the New Zealand selectors had plumped for a six batsmen-four bowler configuration as first-choice modus operandi. Things have changed but Vettori isn't planning on making No 6 a long-term career move.
His batting numbers are strong, however, and given New Zealand's batting woes so far in the series, he can hardly weaken the top six.
"We always targeted Napier as an opportunity to do it. It's always wicket- dependent and what you need from your side at the time," he said.
"I'm excited about it in some ways, and a little bit nervous but if I can do it, it does give a nice allround option."
Offspinner Jeetan Patel, who seemed a monty for selection before the team got a peek at the pitch, is expected to miss out in favour of a four-man seam attack. Daniel Flynn is likely to be at No 5 ahead of Grant Elliott, who is struggling with a knee strain.
The heat will be on those batsmen who have yet to set the series on fire, opener Tim McIntosh, Martin Guptill and Flynn or Elliott.
They need to find answers to combat a lively Pakistan seam trio who have had the wood on them and matched New Zealand's attack for penetration and skill.
"All three of their seamers bring something different into play," Vettori said of Mohammad Aamer, Mohammed Asif and Umar Gul.
"In a lot of ways the seam attacks have cancelled each other out and done very impressive jobs for both captains."
His counterpart Mohammad Yousuf would doubtless agree. But his main concern is likely to be catching - the ball, that is.
It is one aspect of the series in which New Zealand have been superior and after a couple of clownish displays in the first two tests, it has exercised Yousuf's mind, in a "must try harder" way.
"No one wants to drop a catch and every game we have dropped a lot. That's a worry," he said yesterday.
The trick for both under-performing teams will be getting enough runs on a pitch which holds the promise of an even contest between bat and ball, and that's not always been the case at McLean Park.
THIRD TEST
McLean Park, Napier, noon today
New Zealand: (likely)
Dan Vettori (c), Tim McIntosh, BJ Watling, Martin Guptill, Ross Taylor, Daniel Flynn, Brendon McCullum, Iain O'Brien, Tim Southee, Daryl Tuffey, Chris Martin.
Pakistan: (from)
Mohammad Yousuf (c), Imran Farhat, Salman Butt, Misbah-ul-Haq, Shoaib Malik, Umar Akmal, Kamran Akmal, Faisal Iqbal, Fawad Alam, Mohammad Aamer, Umar Gul, Mohammad Asif,
Danish Kaneria, Saeed Ajmal.
Umpires:
Rudi Koertzen (South Africa), Billy Doctrove (West Indies).