Celebrity news and gossip from the man with the unpronounceable name, Myrddin Gwynedd.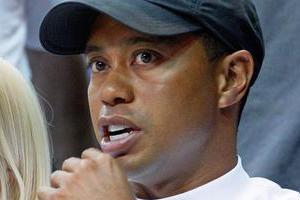 Self-confessed transgressor and pro putter Tiger Woods, we have a problem....we're no longer in the land of single digits.
Ladies and gents, welcome to tabloid hell.
Another day, another wallflower crawls out of the proverbial woodwork claiming to have had a steamy affair with the embattled golfer.
Recap: Married father-of-two Woods' squeaky clean image was shot to pieces and his halo revoked on November 27 when he crashed his car outside the Florida home he once shared with wife Elin Nordegren.
Woods drove his SUV into a fire hydrant and then a tree, and was reportedly found unresponsive with lacerations to his face. Nordegren says she used a golf club to smash the back windows of the SUV to pull her hubby out.
To date, Woods has remained tight-lipped about the red-faced shenanigans, bar issuing a statement on his website apologising for his "transgressions".
Days before the crash, a magazine had alleged he was having an affair with a New York nightclub promoter, Rachel Uchitel.
But as has been widely reported, there are other loose lips ahoy that could potentially sink the ship.
And as the list of ladies grows, all eyes are on the sports superstar to make the next move.
Rumour has it TV titan Oprah is angling for an exclusive interview with the shamed golfer, possibly alongside his wife Nordegren.
Snitches say Woods is considering an "enticing" offer to dish the dirt in a warts-and-all interview with the chat show queen in a bid to save his crumbling reputation.
"Tiger absolutely hates talking about his private life but these are desperate times," an insider told Britain's Daily Star.
"Going on television is a high-risk strategy but this could be the only way out for him. His image is taking a real hit."
The snitch added: "Everyone around him believes it is the only way he will salvage any respect or even attempt to rebuild his family man image."
Having trouble keeping pace with the ladies claiming to be in Tiger's crowded lair? So are we. Here's a rundown to help you see the wood for the trees. (Sorry).
Women reportedly 'linked' to Tiger Woods:
1. Rachel Uchitel. The 34-year-old nightclub VIP hostess cum party planner was the first to be linked to Woods in a scurrilous report by American tattler The National Enquirer. Uchitel denies the affair allegations.
2. Jaimee Grubbs. The 24-year-old Las Vegas-based cocktail waitress who boasted that she allegedly had double-digit sexual encounters with Woods over the course of three years. She claimed Woods told her he wasn't as "financially stable" as he'd like to be, adding that he was "horrible in bed". Nice touch.
3. Kalika Moquin. Another Vegas girl. Friends of the 27-year-old tell the media she is "no longer involved" with Woods. Moquin would neither confirm nor deny the allegations.
4. Mindy Lawton. A diner manager and waitress who reportedly claimed Woods dumped her in 2007 after the National Enquirer allegedly snapped them having sex in his SUV. She says "Tiger just used me as his sex toy".
5. Cori Rist. The New Yorker became involved with Woods after meeting him at a Manhattan club, claims the New York Post.
6. Jamie Jungers. The 26-year-old reportedly met Woods while working for Trashy Girls, a lingerie line and entertainment agency.
7. Unidentified UK TV presenter. Britain's The Sun newspaper claims this unidentified woman would hook up with Woods while he was putting in England.
8. Holly Sampson: The porn star. Reports claim the 36-year-old 'actress' and star of celluloid classics such as Flying Solo 2, was allegedly involved with Woods. She has neither confirmed nor denied the reports to date. Bow chica bow wow, indeed.
9. Unidentified alleged mistress. An unnamed former cocktail waitress from Florida, who claims to have had a two-year affair with the golfer when she was 20.
10. The cougar. There are also British reports that Woods allegedly had an affair with, pardon the expression, a "sex-addicted cougar". Aside form her libido, nothing else is known about the lady in question.
Oh my, this Tiger tale's got more kinks in it than a cheap garden hose.
Stay tuned for updates...
Blogger Bites Back
Follow Blogger Bites Back on Twitter