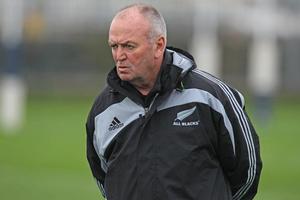 All Blacks coach Graham Henry has waded into the Air New Zealand Cup rugby debate, calling on administrators to stick to the format they agreed on earlier this year.
The New Zealand Rugby Union (NZRU) proposed to abandon the present 14-team format in favour of a 10-team top tier and a six-team middle tier which would include two teams presently in the Heartland Rugby Competition.
But following a competitive Air NZ Cup this year, the NZRU is reportedly rethinking the format, something Henry disagreed with.
"They spent a lot of time and everyone said `yeah that's what we want', and I think that's what they should stick by," he said.
"I just think if you're going to go forward you've just got to have an integrity and go by what you say, otherwise you're always going to have these problems."
Henry also doesn't believe that cutting four teams could result in some players being lost to New Zealand rugby.
"I don't think they will. It's a semi professional competition and people that want to progress in the competition will make sure they'll play."
"I think you'll see the players who have got the quality will play make sure they'll play football."
Arriving back in Auckland after the All Blacks' successful tour of Japan and Europe, Henry said he was pleased with the team's performance.
"We won five test matches out of five test matches. We achieved what we wanted to achieve, the guys played better rugby, we strengthened the culture off the field so that's a real positive," he said.
The 39-12 thrashing of France in Marseille was the top moment of the tour, he said, with the coaching staff getting as much of a thrill as the public.
"We got a big thrill out of it too because we've been knocking on the door for a while, and we just got the confidence and a couple of good early tries and the boys expressed themselves.
"That would have been one of the best test matches that this group of coaches have been involved in so it was very pleasing."
He said it was up to both sides to provide a good game.
"Both wanted to scrum. Both wanted to use the ball at the breakdown, both wanted to try and turn the pill over and use the ball in their hands.
"That's a hell of a good criteria for a top rugby game. So France deserve a lot of credit," he said.
However he acknowledged there are some depth problems within the team.
"We've got some players that played well that are new players for the team, and others who would be disappointed in how they played.
"So we've got some depth problems in some positions."
Henry said the All Blacks have a lot of work to do before the World Cup but is happy with how they are progressing.
"That's a long way away but you've always got an eye to that and I think we've made some steps toward that.
"You've always got workons. We're probably about 70 per cent there.
"We're fairly pleased to be where we're at."