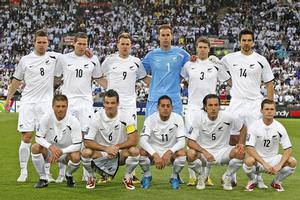 The following sports people were nominees for the 2009 New Zealander of the Year - Sport:
1. Valeri Vili (see related article)
2. All Whites
3. Mahe Drysdale
4. Alison Shanks
5. Daniel Vettori
6. Kirk Penney
7. David Tua
8. Mark Paston
9. Sam Webster
10. Hamish Bond & Eric Murray
2. All Whites
QUALIFYING FOR THE WORLD CUP FINALS
The best night of New Zealand sport this year? The All Whites qualifying for the World Cup finals at the Cake Tin on November 14, hands down. Daylight second, and third.
Just ask anyone who was there, and the 35,000 who packed the stadium weren't all soccer nuts by a long stretch.
The power of the world's biggest game, or a healthy dose of patriotism? Maybe a bit of both.
New Zealand had to beat Bahrain to secure their flight to South Africa next year.
They had drawn 0-0 in the away leg between the winner of Oceania and the fifth-placed Asian Confederation team.
The wide consensus was that the All Whites were a bit jammy to come home on level terms.
But they took charge of the game after Bahrain had put some early heat on and, buoyed by the crowd, won 1-0, courtesy of a firm header from striker Rory Fallon.
The surname's not unknown - his father Kevin Fallon was assistant coach the only other time New Zealand made it to the finals, in 1982, and remains among this country's best known sports coaches.
But the son, who plies his trade at unfashionable Plymouth Argyle, had only just arrived in the national team. Now he's one of several players who are poised to become household names.
On the night New Zealand could have scored another couple of goals; goalkeeper Mark Paston saved a penalty but the key to the occasion, what made it special, was that it was a knife-edge job.
Had Bahrain equalised, even in the 89th minute when they had a chance, New Zealand's hopes would have been dashed.
And that's why the crowd rode every pass, shot and header, roared at every Bahraini offside, and breathed a collective sigh of relief each time the ball bounced safely into Paston's hands. And they stayed 10 minutes after the match to salute the heroes.
Fifa is likely to stiffen the task for the leading Oceania team.
But that's for the future.
The All Whites did all that was asked of them.
This morning they'll find out who they have been grouped with for the finals. Heady times indeed.
- David Leggat
3. Mahe Drysdale
WORLD'S PREMIER SINGLE SCULLER
You'll often hear leading sports people say it is harder to stay at the top than to get there in the first place.
So hats off to Mahe Drysdale for the sustained brilliance of his career as the world's premier single sculler. This year, the tall Aucklander won his fourth world championship at Lake Malta in Poznan, Poland in August.
Since switching from the coxless four from the Athens Olympics, Drysdale has been unstoppable, unbeaten in every major race that mattered, apart from the Olympic final in Beijing last year when, wracked by illness, he fought to a courageous bronze medal.
Did that open the door for his rivals this year? Did it heck.
Drysdale was supreme, winning both World Cup regattas at Munich and Lucerne in the leadup to the worlds, before clinching the title by a shade less than a second from his mate, Britain's Alan Campbell, having taken the lead just after halfway. There was a victory at the Henley regatta in one-on-one racing rather than the standard six-lane format, and the Billy Webb Challenge, on the Whanganui River last weekend over 5000m.
London's Olympics in 2012 are in his sights. A chance to make up for Beijing. So too the world champs at Lake Karapiro next year.
Drysdale's dominance of his particular discipline is as formidable as any New Zealander in any sport. When he gets his long levers working in perfect synchronicity, there's no touching him.
All that's left is more of the same, plus that final cherry to put on top in three years' time.
- David Leggat
4. Alison Shanks
WORLD CYCLING CHAMPION
These are happy days for New Zealand cycling. This week the sport celebrated 15 world champions across the various disciplines, ranging from a 6-year-old BMXer to a masters champion of 77.
Alison Shanks was among them, the woman who has inherited Sarah Ulmer's mantle as cycling's golden girl - and it helps that she is world champion in the same discipline in which Ulmer won the Olympic title in Athens five years ago.
The Dunedin rider switched from netball and basketball, where she was a representative player, to cycling four years ago.
She was fourth at last year's Olympics in Beijing, but returned last January and won the World Cup race.
But the world champs in Poland two months later were the pinnacle - so far. Shanks beat Britain's Beijing silver medallist Wendy Houvenaghel, who was the fastest qualifier for the final. She clocked 3m 29.807s to convincingly topple the Briton by more than two seconds.
In doing so, she became the third New Zealand woman, after Ulmer and 1990 points race champion Karen Holliday, to be a world track champion.
Shanks has a simple philosophy: "I pedal as fast as I can around the track. It's pretty straightforward."
It might not be soon, however, if the International Olympic Committee pushes on with plans to trim track cycling to five events each for men and women, with the IP set to be chopped. The decision is due on December 12. If it goes ahead it would leave her looking for another event to get to London's Olympics in 2012.
Even so, don't rule out Shanks making her mark in London. "I love the challenge of setting a goal and working bit by bit to achieve it."
- David Leggat
5. Daniel Vettori
NZ'S CRICKET CAPTAIN
It has been a busy, and successful, year for New Zealand's cricket captain. So often the 30-year-old's strong performances have been instrumental in his team's better days.
Consider first Vettori's record over the year. The second test against Pakistan is his seventh of the year. Going into the Basin Reserve clash, Vettori had hit 599 runs at 59.9, including two 100s and a 99 at Dunedin last week. Throw in 21 wickets, his job as captain, de facto coach and national selector and Vettori is Mr Cricket.
In 22 ODIs, New Zealand have won 10. In those wins, he has averaged 37.75 with the bat, and taken 13 wickets at a cheap 23.84. Translation: when Vettori performs New Zealand's winning chances go up.
His 100s were notable. He strode to the wicket in Hamilton on the first morning of the opening test against India last summer with New Zealand at 60 for six. Vettori responded with a fine 118.
Against Sri Lanka in Colombo in August, fighting another losing cause, Vettori hit 140. He would surely have had a third century but for the umpires' decision to return for a few overs in gloomy light last week, and fiddled an edge to the wicketkeeper. There was a small consolation: in that innings he passed Shane Warne as the alltime scorer of most test runs batting at No 8.
Under Vettori, New Zealand reached the final of the Champions Trophy in South Africa in October. His 41 and three for 43 did much to beat Pakistan in the semifinal. But cruelly he missed the final with a hamstring injury.
Vettori joined the national selection panel in October and his position has strengthened with the departure of coach Andy Moles last month. His mild-mannered appearance belies a strong mind.
- David Leggat
6. Kirk Penney
FIRST NZER NAMED MVP FOR
THE AUSTRALIAN NBL
Three athletes make the Herald's top 10 for their individual contributions within a team environment.
Just as Dan Vettori and Mark Paston have played significant hands in their side's fortunes this season, so too for Kirk Penney at the New Zealand Breakers.
The former NBA guard had a substantial say in the Breakers' progressing to the Australian NBL playoffs last season.
And his reward was being the first New Zealand player named MVP for the league.
What is more, Penney was, in relative terms, a runaway winner.
The voting is done by the NBL coaches, their assistants and a player from each team.
Penney finished with 81 votes, eight clear of Melbourne Tigers' big man Chris Anstey, with his fellow Breaker, point guard CJ Bruton, third with 71.
Adding to a memorable campaign for the 29-year-old, he was named in the NBL All Star five for the second consecutive year.
How important is Penney to the Breakers' fortunes?
Penney injured his back at training after the third round, missed the next nine, of which the Breakers coped remarkably well, winning five.
He returned to face the Cairns Taipans last week, bagged 22 points and the Breakers won by 17 points.
He leads the league in points average per game.
He has a profound effect on the Breakers and if they are to challenge for the title this season, they need a fit, fully functioning Penney, or life will get a whole lot harder.
- David Leggat
7. David Tua
HEAVYWEIGHT BOXER, COMEBACK KING
It took just 3min 7s in October for David Tua to announce himself back in the fight game.
The beefy heavyweight returned to the ring with a vengeance to topple Shane Cameron early in the second round of their grossly overhyped Fight of the Century at Hamilton's Mystery Creek.
There was a good argument for the referee to have stopped the contest before the end of the first round, such was Tua's dominance. He sat Cameron down three times, twice in the first round in a hopelessly lopsided stoush. It was his 50th professional win, against three losses and a draw.
The boxers each pocketed $500,000, but there was nothing else remotely even about the pair.
Tua, at 37 six years older than Cameron, handled the pre-match junk talk better and, taunted over his age and failings, made the younger man pay in the ring.
Tua had lost an aunt in the Samoan tsunami, so emotional strings were being pulled as well.
His return had been a long time coming, and he has changed since the days of Las Vegas, the path to the Lennox Lewis world title fight when, courtesy of his entourage, he sometimes seemed stuck in a B-movie script, with a hairdo which looked like his finger was stuck in a light socket.
He appears a more mature, sensible man, perhaps sadder and wiser since his legal contretemps with former manager Kevin Barry and Martin Pugh, but certainly more engaging.
Tua yesterday announced three bouts, with the first on February 7 in Atlantic City against American former WBA heavyweight champion Bruce Seldon. A further two bouts will take place in New Zealand in March and in Hawaii in May.
Still, Tua's progress will be intriguing. Even allowing for the hype from his backers that he could get to the top of the heavyweight pile, Tua can hit. If he builds some momentum, he might yet have a happy ending.
- David Leggat
8. Mark Paston
ALL WHITES GOALKEEPER
Has any New Zealand sportsman gained such a large Facebook following quicker than the All Whites goalkeeper? And has any one sought such fame less?
Paston, 32, became an instant hero with his penalty save to deny Bahrain and help New Zealand to their 1-0 win, and World Cup finals qualification in Wellington on November 14.
What will have been quickly forgotten was that before his leap low to his right to block a firmly-struck, but too close, spot kick by defender Sayed Mohamed Adnan six minutes into the second half, Paston made two important saves in the first half.
Handing out 10 out of 10 marks to any sportsman in a team performance is rare. But Paston did everything right and, with goalscorer Rory Fallon, did more than anyone to push the All Whites to the cup finals.
Asked by an interviewer an hour after the match how it felt to be an instant legend, Paston's body language shouted that it didn't sit particularly easily on his tall, lean frame. "I'm a bit uncomfortable with that sort of talk," he said.
A Hawkes Bay product who plays for the Wellington Phoenix, Paston was probably only in the starting lineup because first choice Glen Moss had been suspended after being sent off in a qualifying match against Fiji. Had Moss been playing, would he have dived right to stop the penalty? We'll never know, but Paston is set to play at least the first two of New Zealand's group games in South Africa while Moss sits out the rest of his suspension, before becoming available again for the final match in the section.
But Paston is in possession of the No 1 job. He won't like it, but in the days after the Bahrain win he was as well known as any sportsman in the country. It's a funny thing, fame.
- David Leggat
9. Sam Webster
WORLD CYCLING CHAMPION
His goal is simple: to be world and Olympic champion.Sam Webster is in a group of one among the Herald's best of the year. He is the only athlete among the 10 who did his work at age-group level this year.
He took the cycling world by storm at the world junior championships in Moscow in August, winning three gold medals.
The young Aucklander, who has just finished his final year at Auckland Grammar, was a late starter to the sport, but is making up for lost time and clearly possesses the kind of hard, determined streak he'll need in spades when he comes up against the world's leading open riders.
Webster went to Moscow and scooped the titles in the keirin and individual sprint, to sit alongside the team sprint he shared with fellow Aucklander Ethan Mitchell and Blenheim's Cameron Karwowski.
He is the country's most successful junior at a world champs, eclipsing the two golds won by Sarah Ulmer at Quito, Ecuador 15 years ago.
Webster reckons the biggest buzz came in the team triumph, which he recalled later was "the greatest".
"We'd all slogged our guts out and there was a feeling of communal satisfaction".
The Commonwealth Games are on the horizon next year, then the London Olympics in 2012.
His goal is simple: to be world and Olympic champion.
It's still early days but best watch this space.
10. Hamish Bond & Eric Murray
WORLD CHAMPION ROWERS
In 2007, New Zealand's coxless four won the world title. They were ensconced among the strong chances to win, at least, a medal at the Beijing Olympics last year, if not stand on top of the podium.
But it went wrong in the semifinal, when they missed progressing to the final by a smidgen. It was a shattering experience.
Yet out of it, New Zealand discovered a world champion coxless pair in Hamish Bond and Eric Murray.
The four broke up, but Bond and Murray, armed with a keen competitive spirit between them, figured they had a chance in the seats occupied for the previous four years by Olympic bronze medallists Nathan Twaddle and George Bridgewater.
Their early performances were encouraging.
They went to Europe and utterly dominated the class.
British pair Andrew Triggs-Hodge and Peter Reed were fancied as the combination to watch, but Bond and Murray bettered them all the way.
They won the World Cup regattas at Munich and Lucerne and went to the world champs in Poland in August confident. They had turned the tables on the British pair, and underlined their dominance with a convincing, all-the-way win by 1.52s in the final.
There are two ways of winning a rowing race.
Call one of them the Drysdale method, wherein the world's best single sculler roars home in the second half of the race. The other is the crushing start-to-finish victory. That's what Bond and Murray did this year.
The world champs are at Lake Karapiro next November. No lack of incentive then for a pair who turned adversity into triumph in the space of a year.
- David Leggat
VILI WINS BY DECISIVE MARGIN
The Herald jury has spoken and the top 10 sports achievers of the year have been found.
It was a close call in some of the decisions, but world champion shot putter Valerie Vili came out on top by a decisive margin.
The All Whites were surprise runners up, having captured the imagination of the nation by qualifying for next year's World Cup finals. They narrowly edged out two world champions, single sculler Mahe Drysdale and track cyclist Alison Shanks.
The Herald sports staff chose their 10 top performances of the year. Ten points were allocated to each No 1 choice, down to one for the 10th. Points were then collated to find the top 10.
Several other worthy athletes won votes and were close - the 11th best performance was that of All Black captain Richie McCaw, who came up two points short of 10th-placed rowing world champions Hamish Bond and Eric Murray.
The closest of those who didn't make the 10, but warrant a mention, include last year's winner, Scott Dixon, winner of more races in the Indy Racing League than any other driver; double world BMX champion Sarah Walker; Silver Ferns netball captain and defensive powerhouse Casey Williams.