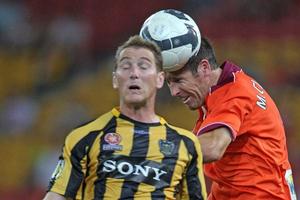 Wellington Phoenix maintained an unwanted record when losing 1-4 to A-League soccer rivals Brisbane Roar last night.
A double to Brazilian striker Reinaldo, a sharply taken free kick from Sergio Van Dijk and a late David Dodd goal earned the Roar a fully deserved win on home turf at Suncorp Stadium in Brisbane.
The result extended Wellington's winless streak against Brisbane to eight matches and owed much to Reinaldo's second goal, in the 56th minute, which broke a 1-1 halftime deadlock.
Crucially, having gone behind, Wellington's cause was almost immediately further complicated when they were reduced to 10 men after Manny Muscat was sent off for violent conduct.
Debutant referee Alan Milliner presented the red card in response to Muscat elbowing a rival in the head.
Having earlier dragged themselves back after conceding the first goal, Wellington could not repeat the effort in the 16th round match.
Striker Sergio Van Dijk added the icing for Brisbane with a well taken free kick from just outside the box in the 79th minute before Dodd found the net in the first minute of added time.
The result did not impact on Wellington's position on the points table, and they remain in sixth place after suffering just their second loss in their past 12 games, while Brisbane improved from 10th to seventh.
Reinaldo's second goal was a gem, as he rifled the ball past Phoenix goalkeeper Reece Crowther, after defender Luke Devere stripped Daniel of the ball deep in Roar territory before taking off up field where he fed Charlie Miller.
Wellington had scrambled well in defence when placed under pressure in the first half and were perhaps fortunate to be 1-1 at the break.
Seventeen-year-old attacker Tommy Oar presented a constant threat down the left flank, making his presence felt as early as the fifth minute when he snuck in behind the defence to lay on a cross which Sergio Van Dijk headed into the crossbar.
Oar, an Australian under-20 representative, set up their opening goal 12 minutes later when he again crossed to Van Dijk, whose header this time was parried away by Crowther.
Unfortunately for the visitors, the deflection went directly to Reinaldo, who made no mistake as he nodded home from in front of goal.
Wellington then began pushing forward with more control but they lacked accuracy in the front third to make their possession count.
That was until the 26th minute when Chris Greenacre scored his fifth goal of the season when heading home unmarked following a good cross from the right by livewire Leo Bertos.
A nicely weighted through ball by Daniel presented Greenacre with a good opportunity in the 36th minute but the striker's well struck shot was cleaned up by goalkeeper Griffin McMaster.
Oar was again the provider shortly before halftime when he channelled a ball through to Van Dijk in front of goal, only for the attack to be closed down by a tight-marking Tony Lochhead.
Crowther, standing in for the injured Mark Paston, was then almost caught out by Oar in the 45th minute when the teenager floated a cross over the goalkeeper but Andrew Packer was unable to control a diving header at the back post.
- NZPA