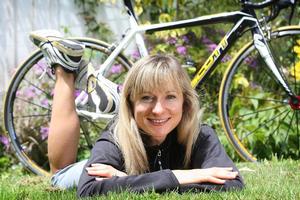 Auckland cyclist Kaytee Boyd always thought track cycling was a bit of a bore.
But the introduction of BikeNZ's Power to Podium programme, aimed at producing more top female track cyclists, convinced her to dabble on the track after spending most of her career on the mountain bike.
Now, after a phenomenal first year, in which she picked up two gold medals in World Cup cycling events, Boyd has had a change of heart.
The 31-year-old's most recent success was a gold medal in the women's team pursuit at last week's UCI World Cup in Melbourne, where they beat the world champions, Great Britain, in the final.
Her success on the track coincided with a breakthrough year on the road.
Boyd had her first full season as a professional road cyclist, racing for top Italian team Selle Italia-Ghezzi.
Her main aim for the European road season was to develop her endurance and gain crucial race experience.
But she still managed to come away with a couple of commendable results, including finishing fifth overall in the Route de France, the women's equivalent of the Tour de France.
Having started off as a BMX rider before excelling in mountain biking, Boyd has this year proven she can succeed at any cycling discipline.
What inspired you to embark on a career in cycling?
I used to race BMX with my dad from about 5-16. Then I had a bit of a break and went to university and I was really bored, I guess, and some friends got me into mountain biking. I went on the road just to do some training for mountain biking and I did quite well at that and got picked up by the power-podium programme that BikeNZ and Sparc had started and that's kind of how it began really, about this time last year.
Before that had you ever considered being involved in track cycling?
God no. I actually thought track was really boring, but it's so not. It's awesome.
You're doing pretty well for having only been at it a year - did you expect to make such swift progress?
I've definitely surprised myself, but I know there's so much more to come. I think that's probably the most exciting part - it's really just the beginning. I feel like I'm only just starting to get a really good endurance base.
When you were growing up were there any other sports you fancied yourself as a future star in?
I played netball for Auckland, I was in the Counties touch teams, when I was 13 or 14 I was junior sportswomen of the year. So I was involved in quite a few things. I think the hard part was choosing, but BMX was still the main priority then. I went to the World Champs in Brisbane.
Describe your job.
I've just had to give up my day job. I want to go back and do a post-grad in sports medicine. It's at Otago University but they've got distance learning, which is awesome because hopefully next year I'll be on the road riding again in a professional team in Europe [Boyd will find out next week which team she will ride for].
What's the best thing about being a professional cyclist?
When you're in a professional team there are a lot of times when you have to sacrifice yourself for the greater good of the team. We had a couple of really good riders in the team this year, and there are times when I had to really bury myself and ride for one of my teammates and make sure they got the win. It sounds weird, but there were a couple of stage races when I had to really dig deep and put in a big effort and one of our girls came away with the win and that was just an amazing feeling.
And the worst thing?
The coffee in France ... it's like mud. But if I'm being honest, being away from home and being away from the people you love.
You also see some really bad accidents and that can be awful. One of my teammates this year [Russian Oxana Kozonchuk] got pushed off her bike and just about died. We were just riding around a cliff-face and a Brazilian rider unclipped and kicked her and [Kozonchuk] fell off the side of a cliff. We all didn't really know what was going on until midway through the race. At the end of the race we all protested to the UCI to make sure the Brazilian girl didn't race again.
What's your greatest achievement of your sporting career?
I don't think I've achieved it yet. But actually I think one of my most satisfying wins was the first mountain-biking race I ever did [in 2007], which was the Matarangi Intrigue in the Coromandel. I had just started riding a bike and my friend convinced me to do this race. She was like 'oh it won't take long, it'll be a couple of hours, you'll be sweet'.
So I borrowed one of her old bikes and entered this f***ing thing in the Coromandel. It had rained all night the night before then we turn up there and the b**** had entered me in the f***ing long one. I got to the first drinks station about two hours into the race and I thought it was the finish line.
Anyway I finally made it there after about six hours and I won it and won a thousand bucks - which was just about the amount it cost to get the bike fixed because there was so much mud in the cables. But that was probably the best race so far.
What's been your biggest disappointment?
Missing out on a podium finish in the Tour de France in the last sprint. I was leading the sprint in the last stage and I really thought I had it and I was just pipped at the end. I think I ended up finishing fifth, it was pretty gutting.
What's the one career ambition you'd like to realise before you retire?
I want to get to the Olympics without a doubt. And I want to medal at the Olympics. London is the big focus for me now, but there are six girls going for two spots - it's going to be a s***fight, but in a good way. We're all really good friends - I think that's half the problem, they're all such really nice girls that I want them to do well as well.
I think it's is really cool because I wouldn't like it to be a culture like they have in Britain where none of them can room together because they can't stand each other, and the Aussies are a bit the same as well.
Who was your sporting hero growing up?
My Dad [Grant Boyd]. He played league for the Kiwis and he was a bloody good BMX racer and all-round sportsman.