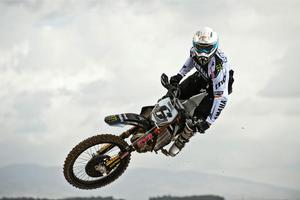 New Zealand motocross rider Josh Coppins confirmed today he will race at least another year in the world MX1 motocross championship with a new team - Aprilia.
Coppins, who replaced retired Belgium legend Stefan Everts in 2007 at the Rinaldi Yamaha factory team, was released at the end of this season as the team conducted a belt-tightening exercise for next year.
The 33-year-old Motueka rider said today he had been thinking of racing in Australia to try something new after 13 years in Europe.
But an approach from Italian motorcycle manufacturers Aprilia had changed everything.
"Aprilia came along with an interesting proposal and after a lot of meetings and talks, we finally made it all official last week," Coppins said.
While his decision raised eyebrows, he confessed he wasn't sure himself if he had made the right move.
He said he had changed his mind after testing the bike and seeing the Aprilia racing structure first hand.
The Aprilia MVV450, launched this season, is the only V-twin cylinder-engined bike in world motocross championship racing.
"I am convinced that not only is the bike good but there's also so much potential in the project and still a lot to come.
"My goal is to be the first rider to win a GP on a V-twin.
"I've had one test and have another scheduled next week. There is not a lot of work to do.
"The bike handles well and honestly it is the fastest dirt bike I've ever ridden."
Coppins finished second in the world 250cc championship in 2003 before advancing to the top MX1 class where he claimed second in 2005. He collected thirds in 2004 and 2007.
He finished sixth this season.
Coppins said he was taking a break at the moment in England and would be heading to Twickenham to watch the All Blacks' rugby test against England on Saturday.
"A mate of mine is playing rugby for England this weekend against the All Blacks.
"I've told him I'd be happy if he gets a few tries but as long as the All Blacks win, it will be all okay."
- NZPA