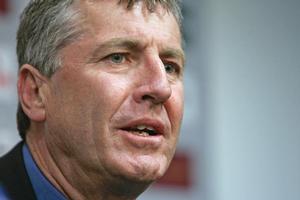 Curiosity remains contagious over who is a) best suited or b) likely to get the Black Caps coaching job as the team's performances fluctuated in the UAE over the past week.
The Herald on Sunday sought the views of a trio who, over the past 60 years, have either played for, captained, coached or selected the New Zealand team.
First let's go to John R Reid, who immediately invokes parallels with Daniel Vettori, albeit from the amateur international era of the late 1950s and early 1960s, as the overseer of most core team functions. What does he make of the current politicking to appoint the successor to Andy Moles?
"Vettori's doing a good job. He's got more pressure than I had in terms of exposure but then he is a professionally paid player. But I think he's in trouble because he's got too much to do. I'm with Martin Crowe - you don't need a coach, provided you've got a good captain, vice-captain and manager who know what they're doing."
Last week, Crowe put forward the idea that players need regular one-on-one mentoring before coming into the test environment. Reid agrees.
"I've been watching these guys make the same mistakes for 10 years. For me, there's only two players who get back and across to play fast bowling. That's Brendon McCullum and Ross Taylor. The rest put their front foot down the track and just about get their heads knocked off. I'd tell them don't hang your bat out like the laundry."
What also earns Reid's ire is seeing the number of support staff balloon over the years.
"Sometimes these days they have at least a dozen people with the team. I mean you've got to be bloody joking. I don't mind a doctor, a physio, a
technical coach and a dogsbody for collecting players and gear etc, but as for the rest ..."
As the team coach in the early 1990s who oversaw the 1992 World Cup success, Warren Lees says: "When I had the team, most of the players were young, open-eyed with gaping mouths and thrilled to be there. They all needed someone to lean on at times but weren't demanding. There was no IPL and no egos."
Lees is concerned that this week's one-day series win over Pakistan will invoke more laissez-faire thinking from proponents of player power.
"I'm not sure what role Mark Greatbatch played as selector up there but I'm hoping the players don't say 'Ah ha, we were right'."
Lees says the team needs someone in charge but the success of that appointment comes down to subtleties in the way talent is nurtured.
"As a coach, it's cheeky to tell a batsman how to bat but advising him on how to construct an innings is fine. The players need someone who can be a personal mentor.
"That's someone they can turn to when they're homesick, when they're going through a bad run of form and when they're getting thrashed."
Dion Nash retired as a selector before the start of the current season. He agrees with Lees that you need to keep a leash, albeit a long one, on players by employing a general manager.
"Players do what's right for them, not what's right for the team. Look at any of the great sporting dynasties over time such as Wayne Bennett with the [NRL's] Broncos or Phil Jackson with [NBA basketball's] Bulls and Lakers.
The team they started with is not the team they finished with. There has to be someone to renew the vision and maintain momentum over time."
Nash also encourages a bit of niggle to get the best out of a side.
"Tension can help because it keeps people honest. The best players are strong-minded individuals who can cause friction. You need to harness those minds into working towards a common goal. Sometimes people can get on too comfortably."
Each of the trio had an opinion on the prospect of John Wright as coach, a possibility confirmed to the Herald on Sunday by sources last week.
Reid can't see Wright taking it on: "I'd be amazed if he did. He coached India for five years, for goodness sake. That's enough for anybody."
In stark contrast, Lees would be keen to sit down with New Zealand Cricket to discuss doing the job in partnership with Wright.
"It's a simple way to get around a three-month problem. I haven't discussed it with Wrighty but he could be head coach and I could be general manager. NZC could say it's a stupid idea but why not let it be makeshift for the time being."
Nash sees Wright as a "reasonable solution" but can't see him getting all his conditions approved.
"They will need to work with the senior players and NZC to compromise a little."