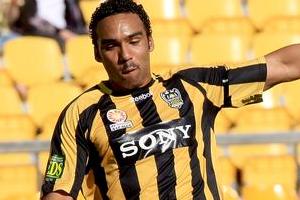 The Wellington Phoenix saved their unbeaten home record with a 1-1 draw against Perth Glory yesterday but missed a chance to cement a spot in the top six of the A-League.
In a scrappy match, the Phoenix conceded a 69th minute goal, scored by Wayne Schroj, before star striker Paul Ifill equalised in the 82nd minute to stretch his side's unbeaten home record to 13 matches.
A hesitant and inaccurate Phoenix, perhaps feeling the strain of their 3-0 midweek win over Newcastle, struggled to string passes together in the face of tight marking by Perth.
Forced to take the aerial route, the Phoenix were unable to deliver good ball for strikers Costa Barbarouses and Paul Greenacre, who were up against much taller defenders.
Perth used quick breakaways but found the Phoenix defence well marshalled by skipper and centreback Andrew Durante. Goalkeeper Reece Crowther, in his second start for the Phoenix, confidently dealt with anything that came his way.
It was not until the 20th minute that the Phoenix began to exert some pressure after Barbarouses slid a shot wide.
At the other end, Perth striker Branko Jelic headed wide, striker Mile Sterjovski volleyed high and skipper Jacob Burns saw his shot from the top of the box hit the bar in the dying seconds of the first half.
Perth had the better start to the second half and clinically took their chance when Shroj curled in a free-kick from the edge of the box.
Phoenix coach Ricki Herbert then brought on Leo Bertos, Adrian Caceres and Troy Hearfield and his team began to pressure the Perth penalty box.
Bertos finally unlocked the Perth defence with a through ball to Caceres, whose shot was blocked by goalkeeper Tando Velaphi, but Ifill was on hand to slam the rebound home and claim his fifth goal of the season.
With 17 points after this match, the Phoenix remain contenders for a top six playoffs spot but are in a dogfight with at least five other teams with half of the regular season to go.
- NZPA