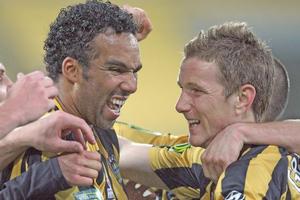 The Wellington Phoenix entered the A-League soccer playoffs picture after a 3-0 win over Newcastle in Wellington tonight.
Goals to Tim Brown, Chris Greenacre and the outstanding Paul Ifill capped a dominant display in blustery conditions as Wellington secured just their third win of the campaign.
It extended their unbeaten home record to 12 matches and was enough to lift them from eighth place to sixth after 13 of 27 rounds before the top-six playoffs.
Wellington had almost everything their own way in the first half and should have led by more than 1-0 at the break.
Midfielder Brown gave them the edge on the score sheet in the 28th minute when he tapped home a loose ball after Jets goalkeeper Ben Kennedy failed to control a shot from teenager Costa Barbarouses.
The Phoenix forced six corners to none and had 13 shots on goal to five during the half and it was not until the closing five minutes that they were placed under any pressure at the other end of the field.
When the Jets did ask questions, young goalkeeper Reece Crowther pulled off two good saves and his defenders scrambled desperately to relieve the pressure.
Crowther played in place of regular custodian Mark Paston, who failed a fitness test after injuring his hip in the 1-3 loss to league leaders Sydney FC in Sydney on Sunday.
He had a quiet time of it until late in the spell but his opposite Kennedy was not so lucky, regularly finding himself in the firing line as Ifill and young striker Barbarouses showed urgency and creativity on attack.
In his first league start, 19-year-old Barbarouses was a ball of energy and was denied a goal of his own in the 38th minute when a well struck volley from a great Ifill cross was blocked by Kennedy.
A long range effort from Vince Lia 11min earlier also required Kennedy's best as the Jets goalkeeper tipped it wide to concede a corner.
The last-placed Jets showed more positive intent in the second half but their deficit doubled in the 55th minute when the potent Ifill-Barbarouses combination struck.
Workaholic Ifill beat two defenders on the left before finding Barbarouses, who showed a cool head to offer a one-touch layoff for his strike partner Chris Greenacre to drive it home.
Kennedy deprived the Phoenix a third with a diving save from a Greenacre penalty after Brown was brought down in the 83rd minute.
But the hosts continued to push hard and were rewarded with their third with time up when Ifill was left a simple task after substitute Leo Bertos slid through a good ball in front of goal.
Wellington's next match is at home against Perth on Sunday.
- NZPA