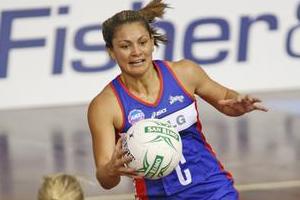 Northern Mystics confirmed their status as the most energetic of the New Zealand netball franchises after today's release of teams for the 2010 transtasman league.
Only four players remain from the 12 who last year finished eighth out of the 10 teams in the ANZ Championship.
Silver Ferns midcourt pivot Temepara George remains, as does goal shoot Cathrine Latu, who finished last year's league with an impressive 86 per cent success rate from 13 games.
Only long-serving New Zealand goal shoot Irene van Dyk bettered that over the full season with 93 per cent.
Defensive utility Finau Pulu is still on the Mystics' roster, as is attacking midcourter and national under-21 representative Grace Rasmussen.
Heading those making the trek to Auckland are Silver Ferns Maria Tutaia and Joline Henry, both formerly of Waikato-Bay of Plenty Magic.
Joining them are New Zealand teammate Larrissa Willcox, who played for Canterbury Tactix this season, and Jamaican defender Althea Byfield, moving from Central Pulse.
Former Silver Fern turned television commentator Jenny May-Coffin has also returned to the franchise.
Among missing from last year's roster are Stephanie Bond, Vili Davu, Rawinia Everitt, Keshia Grant, Rachel Rasmussen, Debbie White and shooter Jade Topia, who has signed for Southern Steel.
Bottom-of-the-table Central Pulse have also been busy, making the most of a rescue package aimed at supporting any team finishing ninth or 10th for consecutive seasons.
Despite their first transtasman league win in the penultimate round of this year's league - a 53-52 win over NSW Swifts - the Pulse were the only team able to apply for concessions in the 2010 season.
Among the measures were the right to contract two non-eligible players, and to apply for a $25,000 grant from the Transtasman Netball League.
The Pulse have lost Byfield, but have made some strong acquisitions, including Silver Ferns defender Katrina Grant from the Steel.
Adelaide Thunderbirds shooter Jane Altschwager boosts the Pulse's shooting line-up while English defender Ama Agbeze has joined the Wellington-based team from Melbourne Vixens.
Canterbury Tactix look to have fared the worst in the transfer window, losing shooter Jodi Brown to Magic and Sonia Mkoloma to NSW Swifts, as well as Willcox.
On the plus side, they have picked up Australian defender Peta Stephens from Queensland Firebirds, and retained Silver Ferns Maree Bowden and Anna Thompson.
The Magic, runners-up in 2008, have maintained a solid squad despite the loss of Henry, Tutaia and Leana De Bruin (Steel), with the inclusion of Australian defender Peta Scholz further strengthening their line-up.
The Steel will be without shooter Donna Wilkins, but have a talented young replacement in Topia as well as a potentially destructive defensive pairing in Sheryl Scanlan and De Bruin.
Transtasman Netball League teams
Melbourne Vixens: Tegan Caldwell, Bianca Chatfield, Natasha Chokljat, Renae Hallinan, Kathleen Knott, Sharelle McMahon, Chelsey Nash, Julie Corletto, Caitlin Thwaites, Brooke Thompson, Wendy Jacobsen, Kara Richards.
Adelaide Thunderbirds: Jo Sutton, Emily Beaton, Georgia Beaton, Kate Beveridge, Mo'onia Gerrard, Geva Mentor, Sharni Layton, Carla Borrego, Erin Bell, Jasmine Keene, Sheree Wingard, Natalie von Bertouch.
Queensland Firebirds: Romelda Aiken, Alissa Castrisos, Natalie Medhurst, Laura Geitz, Keirra Trompf, Amy Steel, Sarah Wall, Clare Mcmeniman, Lauren Nourse, Laura Scherian, Jacqui Russell, Sophie Croft.
New South Wales Swifts: Catherine Cox, Susan Pratley, Vanessa Ware, Kimberlee Green, Kimberley Smith, Courtney Tairi, Kimberly Borger, Rebecca Bulley, Samantha May, Amy Wild, Sonia Mkoloma, Ashleigh Brazill.
West Coast Fever: Caitlin Bassett, Emma Beckett, Shae Bolton, Madison Browne, Johannah Curran, Leah Shoard, Susan Fuhrmann, Andrea Gilmore, Josie Janz, Janelle Lawson, Sarah Ebbott, Ashleigh Neal.
Northern Mystics: Temepara George, Joline Henry, Larrissa Willcox, Maria Tutaia, Cathrine Latu, Althea Byfield, Grace Rasmussen, Jenny-May Coffin, Finau Pulu, Bailey Mes, Kayla Cullen, Sulu Tone-Fitzpatrick.
Waikato/Bay of Plenty Magic: Irene Van Dyk, Casey Williams, Laura Langman, Jodi Tod, Jodi Brown, Jess Tuki, Elias Shadrock, Frances Solia, Kahurangi Waititi, Tanya Lund, Amy Christophers, Peta Scholz.
Central Pulse: Paula Griffin, Jane Altschwager, Te Amo Amaru-Tibble, Jamilah Gupwell, Camilla Lees, Ngarama Milner-Olsen, Daya Pritchard, Alanah Cassidy, Katrina Grant, Bessie Manu, Cushla Lichtwark, Ama Abgeze.
Canterbury Tactix: Maree Bowden, Anna Thompson, Phillipa Finch, Charlotte Kight, Ellen Halpenny, Anna Galvan, Chelsea Pitman, Ashley Smith, Hayley Crofts, Victoria Smith, Hannah Poff, Peta Stephens.
Southern Steel: Daneka Wipiiti, Juliana Naoupu, Wendy Telfer, Liana Barrett-Chase, Hayley Saunders, Emma Moynihan, Erika Burgess, Sheryl Scanlan, Leana De Bruin, Te Huinga Selby-Rickitt, Jade Topia, Megan Dehn.
- NZPA