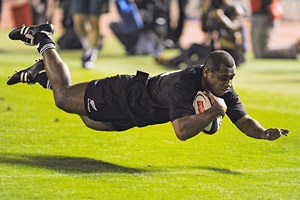 TOKYO - The reluctance of Graham Henry to talk about what is driving the All Black dominance against the Wallabies is perfectly understandable.
He'd be reluctant to be seen to be rubbing it in; to be lording it over his old foe Robbie Deans. He would also not want to be giving the Australians any help on where they might be going wrong.
He was happier focusing on his own team's position.
"I think we were about 70 per cent so there is plenty for us to work on. I guess, though, it's great to have some momentum going into the European leg of our tour. We have that and the Australians don't."
Right now, the fact the Wallabies have lost the last seven against the All Blacks is very much their problem. It's up to Deans to figure it out for himself - to come up with the answers everyone said he would have when he was appointed last year.
He knows where it is going wrong.
"If we compare it with our most recent outing, it was a better effort in terms of physicality, certainly at the breakdown. We built a lot of pressure but came up short on a number of occasions; which is that finishing touch we are looking for.
"Our lineout contributed to that - to finish off. The scrum was exceptional."
What Deans doesn't seem able to figure out at this stage is the why - and therefore what he can do about it. He had a pop at the officials for the 13-9 penalty count which he felt was a problem given the two sides were in Tokyo to promote the game. But he won't find a lot of traction with that line.
The Wallabies just couldn't cope with the relentless energy of the All Blacks. They couldn't deal with the width and precision of some of the attacking movements and they really couldn't deal with the way the All Blacks challenged them in the air.
The problems facing the Wallabies when it comes to the All Blacks were best summed up by their captain, Rocky Elsom, when he said: "I can't fault the boys for effort, we certainly put the work in. But that wasn't good enough and that is a problem for us."
They will spend the next four weeks in the All Blacks' shadow - metaphorically and literally - as they chase an historic Grand Slam.
They will need to fix their lineout and the All Blacks will be delighted to see someone else struggle with that facet of their game.