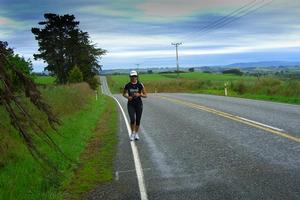 She's already run through Death Valley and the Sahara.
But this week New Zealand ultra-marathoner Lisa Tamati began a run that will test even the world's best endurance athletes - running the length of the country: 2,200 km in just 33 days.
That's the equivalent of 52 marathons in a little over one month.
Some days she'll run more than 80 kms, with most of the month seeing her put up daily mileage of at least 60 km.
After starting in Bluff this past Saturday, Tamati is now heading north north through the South Island, before stopping at Auckland Airport.
There she'll fly to Kaitaia, drive Cape Reinga before running southto conclude the mission in Auckland - hopefully on December 2.
Along the way she'll be posting updates and sending through photos. We'll be following her progress here at nzherald.co.nz.
Tamati is raising money for two charities through the event, CanTeen (for teenagers and their families fighting cancer) and Curekids (dedicated to finding cures for illnesses that affect children).
The push to get New Zealand children outdoors and active is another part of her mission.
Tamati will be trying to get as many schoolkids as possible to run alongside her for short stretches as she makes her way up the country throughout the month.
Speaking to nzherald.co.nz while driving down to Bluff last week, Tamati said she was more than ready to start the run, after a few weeks of only very light training.
"I feel overweight and unfit, but that's the way it should be, since I'm going to be using so manby of my reserves over the next month."
"It's like I'm really a bull at a gate," she said.
While outwardly confident, Tamati does fear what might happen to her body during the gruelling run.
"It's injury or sickness or for some reason not being able to complete the task. Accidents - that sort of thing, I'm worried
about the traffic - it's a bit of a scary thing here in New Zealand. Letting people down, that's my biggest fear.
"Everyone says 'yeah, you'll be right' - but I know what it's going to take, what it's going to take out of my body. It's
not a done deal"
"I've done all I can do, I've ticked all the boxes, now I've just got to give it everything I can from now on."
One big difference for Tamati in this endeavour, something she didn't have to cope with in Death Valley or the Sahara will be the speaking engagements and book signings she's scheduled along the way.
After a hard day's running 70km or 80km, she's going to have to stay focused, sign books and press the flesh.

"That's going to drain me in another way," she said. "It's definitely new territory."
"I'm going to have to really pull myself toghether and be a real professional. My crew are going to end up getting it in the neck."
A new blog posting says the emotional stress of her journey had already started, just two days in.
"Today was cold and hard. We followed our maps, yet our maps took us over high hills and gravel roads. I had my first moment of desperation today, the road just kept going, and it felt like day 2 would not end."
"I was motivated through the day again by generosity of locals. One of our crew vehicles was running low on gas and local farmers Duncan and Desere, who had waited out at the gate for many hours to greet us filled up our tank for us from their farm supply. Such generosity is what keeps you going through the tough times."