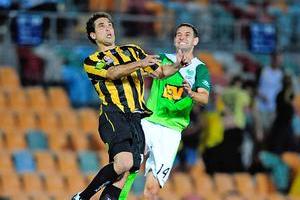 The Phoenix drew yet again overnight - but this time, they could have no complaints.
Wellington's 1-1 draw in Townsville was the club's sixth in a row, an A-League record. But while saying they should have won has been a common refrain during this run, the Phoenix deserved no more than a point, despite leading for almost 80 minutes. In fact, if any team deserved to win, it was North Queensland.
That seemed unlikely before kickoff, given the hosts had earned just one of their eight points at home this season.
And after Jason Robinson almost opened the scoring in the first minute, the Phoenix gradually gained control of the match to deservedly lead 1-0 at the break.
Wellington's eight shots in the first half to North Queensland's one was a telling statistic.
But the second half was a different story, as the Fury dominated but squandered several good opportunities before Robbie Fowler showed his teammates how chances should be finished with his 84th-minute equaliser.
The way the Phoenix faded was perhaps not surprising given how many air miles Wellington's five All Whites have clocked up in the past week.
"We've done a ton of travelling," said Tim Brown. "The legs were starting to go in the second half but that's no excuse."
Brown headed the Phoenix into the lead after just five minutes, his chance set up superbly by Paul Ifill.
The Englishman timed his run to avoid the offside trap, then delivered a fantastic curling cross from the right with his left foot.
The ball fell to Brown in the six-yard box and his goal underlined the increasing threat the midfielder poses going forward.
Much that is good about Wellington's attacks comes through Ifill but he missed two good scoring chances before the break that were to later prove costly.
Ifill and his teammates were rarely sighted on attack in the second half, as the Fury pushed forward for an equaliser. A couple of one-on-ones were missed, including a highly controversial one from Chris McBreen.
After referee Chris Beath had stopped play for an injury, the drop ball was seized by Ufuk Tallay and played through to McBreen, putting him in on goal. Despite missing, the incident triggered a standoff between the Fury and indignant Phoenix players.
The Phoenix defence looked like holding firm, with Andrew Durante outstanding. But than Fowler, who had been kept quiet, aside from some superbly-placed corners, headed his equaliser. His goal meant that nine of the Fury's 11 goals have come in the second half.
The Phoenix remain eighth, five points outside the top six with a game in hand.
Fury 1 (R. Fowler 84) Phoenix 1 (T. Brown 6). HT: Phoenix 1-0.