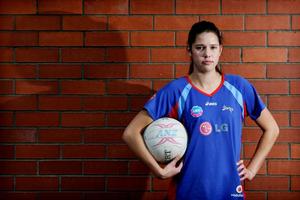 While her peers embark on tertiary study or enter the workforce for the first time, Auckland Girls' Grammar student Kayla Cullen's first steps in the big bad world will be slightly more daunting.
The 17-year-old, who is in her final year of high school, has signed on to play for the Northern Mystics in next year's transtasman league, playing alongside Temepara George, Maria Tutaia and Joline Henry.
Not a bad first job if you can get it.
But then there are very few schoolgirls out there who possess Cullen's talent.
Mystics coach Te Aroha Keenan quickly rattles off a long list of attributes that made the young shooter impossible to overlook for a contract.
"She's an athlete, so she's quick, she's just on six foot, has a massive jump, fantastic hands and plays a style of game that can open up the court," said Keenan.
"While she is very young, she's got a bit of cunning about her, which I really like."
Cullen's inclusion in the Mystics line-up caps a stellar year for the teenager, who was a shock selection in the New Zealand under-21 side for the world youth champs in August.
After undergoing a knee reconstruction late last year, Cullen did not believe she had a chance to make the national squad. But barely a month after she was given the all-clear to play again, she made the national selectors sit up and take notice at the under-21 trials in May.
And so began an intense three months for Cullen as she underwent the necessary conditioning to prepare herself for the biggest tournament of her fledgling career.
"I had to learn pretty quickly and adjust pretty quickly to a different intensity level," she said. "I've learned so much in such a short period of time, it's kind of hard to get my head around it, but I'm getting there."
Keenan hopes to give her young charge opportunities next year, but she says Cullen will need to take another big step up if she is to make an impact.
"There are some things that need improving in her game, but I'm a great believer in young talent and I think it is worthwhile us investing in her.
"It's a big step for a schoolgirl to make ... I don't believe she realises what she's in for."
Cullen thinks she has a fair idea of what to expect from her coach.
"[Keenan] has told me even though I'm one of the babies of the team she's not going to be easy on me. I have to do the work just like everyone else."