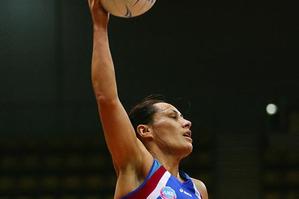 Television presenter and former Silver Fern Jenny-May Coffin is to make a surprising comeback to top-level netball, after signing on to play for the Northern Mystics in next year's transtasman league.
Coffin played for the Southern Steel in the inaugural season of the competition and was initially included in the Steel's squad this year, but later withdrew to take up a new job.
It was thought that would be it for Coffin's elite netballing career, but when the Mystics came knocking offering her the chance to play in 2010, she could not resist giving it another tilt.
"I guess when opportunities pop up you can either say yes or no to them and I've never been the one to turn down a challenge."
The 35-year-old said she was quite happy watching this season's ANZ Championship action from the sideline and it was not until the Mystics approached her to gauge her interest that she considered a comeback.
"At no stage did I ever feel like 'yeah, I wanna get out there'. Knowing how much hard work it takes to play at that level, I was more than happy to sit back and watch it all happen," she said.
"It was just when the opportunity was put in front of me, you kind of think, 'Okay, well is this a reality or not?"'
Since signing with the Mystics the veteran midcourter has been in intense training over the past couple of months and feels confident she still has the goods to foot it with New Zealand and Australia's elite.
"I've been training really hard these last few months to make sure that it's a reality and not just 'yeah okay, let's do it' based on past performances. The body feels good, it's pulling up well," she said.
"If I didn't think I could compete, I wouldn't do it. I know what it takes to play at an elite level, I've played ANZ Champs before and I've been training extremely hard for the last few months and if I couldn't cope with that then I wouldn't have waved the flag and said, 'Yeah, let's go for it."'
Coffin will add experience to what is an impressive-looking Mystics line-up that includes Silver Ferns Temepara George, Joline Henry, Maria Tutaia and Larrissa Willcox and Grace Rasmussen, who was yesterday elevated to the wider NZ squad.
Mystics chief executive Mark Cameron said he was thrilled with how the team was shaping up for next season. "We're absolutely rapt to have Jenny-May on board. She adds a great deal of experience down the attack end, which is ... something we've been lacking."