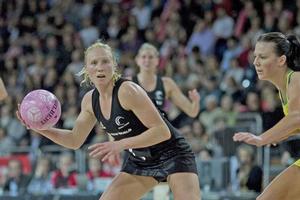 It is hard to believe that at just 23, midcourter Laura Langman is one of the most-capped players in the Silver Ferns.
Langman is set to rack up her 50th test cap in this morning's one-off international against England in Bath - becoming just the third player in the team behind Irene van Dyk (100) and Temepara George (67) to notch up the half century.
But while van Dyk and George can be considered veterans of the sport, Langman's rise to the top has been incredibly swift.
She made her debut for the Ferns in 2005, at 18, and has quickly established herself as a key cog in the New Zealand midcourt.
So much so in fact, she has not sat out an international match since making her debut - a statistic that astounds even national coach Ruth Aitken.
"I've only just realised that we've used her in 50 consecutive tests - she's never been off for a whole game. I didn't even realise that otherwise I would have stood her down just for the hell of it really," Aitken joked.
Aitken said Langman's record was testament to just how important she was in the team.
Langman has earned the reputation as being Aitken's Ms Fix-it in the midcourt, having twice reinvented herself to fill gaps left through injury and unavailability.
The Waikato player first made a name for herself as a wing defence.
She debuted in the position in 2005 and it wasn't long before she displaced New Zealand's most-capped netballer, Lesley Rumball, in the starting side.
Langman was soon regarded as one of the best WDs in the business before changes in the ranks in mid-2007 forced her to make a move to centre.
George's withdrawal from the squad just months out from the World Championships in Auckland thrust the spotlight on Langman and her ability to switch positions.
Since then, she has spent most of her time at both ANZ Championship and international level in the centre position, although she did have a brief flirtation at wing attack last season, this time stepping in to fill a gap left by the retirement of former captain Adine Wilson.
This season, with the return of George, the selectors had originally planned to play Langman predominantly at wing defence.
But once again injury early in the season forced a midcourt reshuffle with George moved to wing attack, and Langman to centre, where to say she has been impressive would be an understatement. Rather than be perturbed by all the positional changes in the team, Langman said she relishes the challenge.
"I've had the opportunity to play three midcourt positions over my time with the Ferns, which has been huge for my development. I think each position has kind of helped the other improve in my game," she said.
Aitken said in many cases chopping and changing positions all the time could be detrimental to a players' development, but Langman demonstrates the unique ability to quickly adjust and look at home no matter which bib you throw at her.
"Laura is probably the last person to realise this, but when we shifted her around she kind of thinks it's 'gosh is there room for me anywhere? Am I the last middie?' But actually you put everyone else in place that you think are the best you've got and she can slot in anywhere because she is world class in any position she plays," said Aitken.
"I have no doubt if we'd needed her at wing attack and she'd played all season there that she would now be a world class wing attack as well, so she is a freak, but a wonderful freak.
"She's a very special player, but she will always defer the praise to someone else."
True to form, Langman is quick to play down her impending milestone.
"I actually wouldn't have known if no one had told me. It's nothing like Irene van Dyk's 100th, because that's just incredible," she said.
"But it has been a fantastic journey and one that I hope carries on after 50. For me, it's just another match and one that we really want to go out there and make a statement."
With nearly 50 tests under her belt, there have been many memorable moments on the court for Langman, although she finds it hard to go past the 2006 victory in Melbourne to win the Commonwealth Games gold.
"That whole experience is something that I still rave about today, it was just the most fantastic experience to be part of a wider New Zealand team.
"And to beat Australia in the final at home was definitely a game I won't forget."
Her memento from the big occasion did, however, go missing, when her gold medal was stolen from her Hamilton home this year.
To her relief it was later found in a vacant Auckland state house and is now "under lock and key" with a space next to it where Langman hopes to add another next year.
LAURA LANGMAN
Born: 16/04/86
Height: 1.73m
Test caps: 49