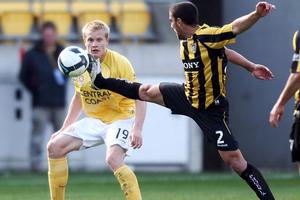 In a game where fortunes swirled as much as the wind, the Wellington Phoenix and Central Coast battled out a scoreless draw in their A-League soccer match today.
Both teams were guilty of not making the most of hard-earned opportunities, especially in the closing 15 minutes when the Phoenix created a barrage of chances in front of goal.
The result continued the Phoenix's recent run of draws, with their previous three games ending in 1-1 scorelines.
In contrast, the Mariners - who thumped new glamour club Gold Coast 3-0 last week - now lie in fourth place on the table, ahead of Melbourne on goal difference.
Both teams had plenty to play for - a win would have seen the Mariners threaten the top of the table, while a loss could have moored the Wellington team worryingly at the bottom.
The Mariners started strongly, and only a lapse in timing from Matt Simon stopped them from going up 1-0 after 10 minutes.
The towering striker strayed offside in laying a pass back to Nicky Travis, and the young Sheffield United playmaker's clinical strike beat Phoenix goal keeper Mark Paston but was disallowed.
It took some time for the Phoenix to build momentum, but in the final 20 minutes of the first spell English striker Paul Ifill started running with some freedom, and unleashed one near-lethal left-foot strike which sternly tested Mariners keeper Danny Vukovic.
Phoenix coach Ricki Herbert had opted to start Ifill, who strained a hamstring in last week's draw with North Queensland and trained only once during the week.
Although the Phoenix ended the spell with three solid shots on target, they continued their recent struggles at finding the back of the net.
The Phoenix back four, well led by captain Andrew Durante, had to work hard at reigning in the Mariners' Wellington-born attacking midfielder Michael McGlinchey, who will rejoin the All Whites for their two-leg World Cup qualifying against Bahrain next month.
Phoenix midfielder and vice-captain Tim Brown was left disappointed with the result but not with the effort his team put in.
"It was disappointing again, the balls are just not quite falling, but we're battling," he told Radio Sport.
"It probably wasn't our best day today, but we certainly showed a lot of character. Eventually it's going to fall our way and we'll get the result."
Brown said a point from the draw was better than nothing, "but we need to start finding ways to win."
Former Mariners midfielder Adrian Caceres, given the chance against his former club with Daniel on a week's paternity leave, was replaced by 19-year-old Costa Barbarouses 10 minutes into the second half as Herbert looked for more from his midfield.
Hamilton 17-year-old Marco Rojas also made his A-League debut, coming on for Ifill with just under 20 minutes remaining and acquitted himself well.
The Phoenix have now extended their unbeaten run at Westpac Stadium to 10 matches, their last defeat coming last October when they were downed 1-0 by Queensland Roar.
- NZPA