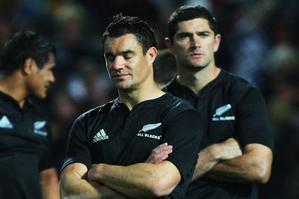 Last night the All Blacks selectors would have learned a lot about their side.
They would have learned they can get rattled under pressure, that some basic skills are sorely lacking, their lineout is dreadful and that the Carter-Donald axis didn't work.
Stephen Donald played his first game in six years at second five-eighth last night - what a stage to reacquaint yourself with an unfamiliar position - to allow Dan Carter to remain in his rightful position of first five-eighth.
The selectors admitted beforehand that it was a risk but it was deemed their best option with so many injuries.
You want your best player, Carter, running the game. Donald hasn't proved in 16 tests that he can do that. He's not been convincing at Super 14 level, either.
Last night's match was not suited to gaining a definitive answer on the Carter-Donald axis experiment, despite Donald being dragged off after 51 minutes.
The game was simply too stop-start for any flow to develop and the All Blacks couldn't get anything going as the whistle blew and the frustrations grew. There were few occasions, particularly in the first half, when more than five phases were put together.
There is an argument, however, that second five-eighth could be Donald's best option long term.
New Zealand rugby isn't exactly flush with second five-eighths. They are either in the crash and bash mode of a Ma'a Nonu or a playmaker with defensive frailties.
It's possible Donald could be converted into a hybrid of the two - in the same way Australia have Berrick Barnes and Matt Giteau - and it would be an asset to his game. Sometimes being adaptable is a good career move.
He has the size (1.9m, 98kg) to take the line on, good tactical awareness and a decent running and kicking game. It's hard to see him dislodging Carter if the Jockey-ed one remains fit.
Donald didn't have the chance to make a statement last night. He looked comfortable at times but too often he made the sort of mistakes that many point to in saying he is not an international first five-eighth.
His first kick was a skied bomb that led to a penalty against New Zealand and another incredible long-range Francois Steyn penalty. His second was an aimless left-footed kick that was easily gobbled up by Odwa Ndungane.
Sadly for him, Graham Henry had seen enough. Donald trudged to the sideline in what was his first test on his beloved Waikato Stadium, to be replaced by Isaia Toeava.
The All Blacks started to play more expansive rugby when Donald left. They simply had to. The score was 29-12 one minute later, when Carter's pass inside his own 22 was intercepted by Jean De Villiers, and they had hardly ventured into the Springboks' 22.
Carter's class, which had been missing in the opening 50 minutes, returned. It was almost as if the shackles had been released with Donald's substitution. Perhaps the pair had worried too much about gelling and sticking to the game plan without playing what was in front of them.
It's hard to know if the Carter-Donald combination will be seen again. But it was by no means the worst aspect of an ugly All Blacks display.