South Africa 32
New Zealand 29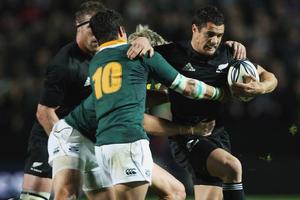 The All Blacks better dig out the tin helmets and prepare for a heavy burst of artillery fire.
They are now on the cusp of having a really bad Tri-Nations.
Redeeming features were in short supply last night when even the golden one, Dan Carter, was guilty of throwing Jean de Villiers the try-winning pass, then delaying too long when he could have put Isaac Ross away in the corner.
That the All Blacks managed to get as close as they did, that they managed to find some space and look more threatening in the final half hour, was more to do with Springbok fatigue than a raising of standards.
The basic errors that plagued the All Blacks in their first outing this season have never been eradicated ... the lineout was a shambles; ball retention sloppy and decision-making flawed under pressure.
If the focus just fell on the final half hour, a case could be mounted to say there is reason to be positive - that the All Blacks were a version of their former selves. They were just one piece of luck away from winning - Carter's late cross kick a few inches too high for Ross in the last act of the game.
But the more pertinent focus has to be on why they were so far behind by that stage. Why was it that they had been so comprehensively outplayed?
The time has come now to ask whether, two years out from the World Cup, it's time for a rethink - have the coaching team lost the changing room?
Surely now the lineout has become intolerable? If Steve Hansen can't fix it, should someone else be given the chance?
A team at this level can't function, can't even be taken all that seriously, if the lineout is so obviously broken.
Given the litany of bad days chalked up by the All Black lineout, it was hard to believe they could produce something that would have a fair chance of being judged their worst. But they did.
They didn't win a single one of their own throws in the first half and it made for excruciating viewing; by half an hour, they were like an arachnophobe asked to handle spiders.
The Boks loved it. They knew the All Blacks' confidence was shot - that they didn't want to be playing to the touchlines. And this Springbok side hardly need any help in identifying their opponents' vulnerabilities.
They are a supremely efficient machine, working every angle to the maximum. There had to be a grudging respect for the way they went about their business. They played what could be the ultimate brand of test football.
Those weaned on Super 14 will condemn the Boks as an archaic bunch of thugs who have no spiritual side. The more pragmatic, and indeed realistic, will wonder why more teams don't play with such a basic formula.
The Boks were all about taking the points on offer. Penalties, drop goals, tries - whatever it takes.
Of course they were blessed to have the remarkable boot of Francois Steyn.
Those among the crowd old enough to remember Don Clarke would have acknowledged they were watching a superior modern incarnation.
Steyn landed three first half penalties from inside his own half - the first, although appearing to fall under the bar, would have been a good 60 metres. He very nearly landed a drop goal, too, from the far touchline on the junction of halfway. As a piece of weaponry, Steyn is quite unique and all part of the Springbok philosophy of using the scoreboard to build the pressure.
The All Blacks were a team under siege for much of the game, unable to breath, as every time they looked up, they saw the ball sailing over their posts or hanging high in the air.
The high ball, so masterfully dealt with in Sydney, was an area of concern again. It wasn't relentlessly bad as it had been in Bloemfontein. There was some brave work from both Joe Rokocoko and Sitiveni Sivivatu but both men were also guilty of coughing up the ball at the most inopportune times.
A spillage by Rokocoko, compounded by Mils Muliaina, led to Bakkies Botha, in a move that would have been tricky for a man half his size, picking up at full tilt and setting a ruck from where Fourie du Preez sniped over.
That's the Bok way - they force the mistakes and then they pounce. That's why the All Blacks were frustrated. That's why it took them so long to settle, because they never really had a chance until the fatigue of playing three on the trot finally bit into the South African's legs.
New Zealand 29 (S. Sivivatu, R. McCaw tries; D. Carter 2 cons, 5 pens) South Africa 32 (J. de Villiers, F. du Preez tries; F. Steyn 3 pens; M. Steyn DG, 2 pens, 2 cons).