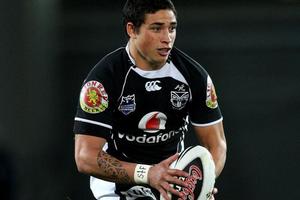 The Warriors will play hardball with the Kiwis and won't release players who are under an injury cloud for next month's Four Nations.
The club are undertaking a major review of what has been a disappointing season, looking at everything from coaches and players to travelling schedules and management structures, and one thing they have already identified is the drain of international football on players.
It was one of the major points in an interview with Warriors chief executive Wayne Scurrah and outgoing football director John Hart about the club's massively disappointing 2009.
Scurrah and Hart also indicated that:
* Coach Ivan Cleary needs to deliver in 2010.
* Future recruitment will focus on fewer but better Australian players.
* The club made mistakes on recruitment and the release of players.
* Sonny Fai's death had a major detrimental effect on players and the depth of the squad.
* Changes will be made to the structure of the club, including Hart relinquishing his role as director of football.
International availability
The availability of the Warriors' Kiwis is a contentious issue. In the past, the club believed they were sympathetic to the Kiwis' cause to the detriment of their own fortunes but Hart says that has to change.
"We are not going to play games [with the Kiwis] but we have players with injuries and we are not sending injured players away for another two months for them to be cannon fodder next year," he says.
"We are very supportive of the Kiwis and I think we have been the most supportive club for years. We have hardly ever pulled players out and we will only do it on the basis of injuries and necessity. We give the Kiwis our management team so no one can say we're not committed to them.
"We are not putting any pressure on individuals and telling them they aren't allowed to go. We will wait until the end of the season and do a fair medical but we are not going to send players injured."
Medicals will be conducted by Warriors doctor John Mayhew and Kiwis doctor Simon Mayhew.
Simon Mannering (knee, groin), Manu Vatuvei (knee), Jerome Ropati (shoulder), Sam Rapira (chest) and Kevin Locke (shoulder) are all struggling and are in serious doubt for the Four Nations. Australian prop Steve Price (eye, Achilles, finger), who has played only 14 games this season, is also an unlikely starter.
Mannering's heavy workload of 92 straight NRL games and 19 consecutive tests was clearly taking its toll on the second-rower, while Ropati has been badly out of form. Rapira and Vatuvei have played well but have battled with injury all season and the exciting Locke might need a shoulder reconstruction.
Ivan Cleary
Despite this year's high injury toll, which saw five regulars sitting out last night's final NRL game against the Storm, Cleary will not escape the spotlight.
"The coach has to be accountable, like everyone," Hart says.
"Ivan knows that. He has to deliver next year. It's a big year for him, and everyone at the club. He knows we will be addressing very aggressively any shortfalls [from the review] and making sure we get the resources and structures in place to help him. Ivan is under review but we are not about to kick Ivan Cleary out."
Cleary has been in charge for four seasons and earlier this year signed a new deal through to the end of 2012. The club rate him highly and hope coaching stability leads to success.
Release mistakes
Hart and Scurrah admit mistakes have been made this season, including on recruitment and the early release of players.
Michael Witt, Grant Rovelli, Epalahame Lauaki and Nathan Fien were all told they weren't in the club's future plans and all four left when they found other clubs. It was often a messy process, however, and some were let go prematurely.
New recruits Denan Kemp, Jacob Lillyman and, to a lesser extent, Joel Moon have also underwhelmed.
"We have to accept that it's not great for any team environment when a number of people, players or staff, are leaving mid-stream," Scurrah says. "It's something we need to learn from. Player transition is part of professional sport but we had more than most would have anticipated."
Hart adds: "We got the issues of [Michael] Witt, [Grant] Rovelli and [Epalahame] Lauaki wrong. It dragged out."
Sonny Fai
"The death of Sonny Fai threw us. He was our back-up to Brent Tate [at centre] or he was going to be a ball-playing back-rower - so it affected the balance of the squad," says Hart.
"His death also had a horrendous impact on this team. There was a deep attachment there with some players. It was tragic."
Less but better
The Warriors have added only two players to next year's squad, halves Brett Seymour and James Maloney. They are still undecided about another prop and winger but aren't in a hurry with a swathe of players off contract.
Next year they might target another marquee player for the 2011 season but there is now more of a determination for quality rather than quantity when dipping into the Australian market, especially with the success of their under-20 team.
"Less but better, that's what we're trying to do," Scurrah confirms.
"In 2005, we had about 17 of 35 players from Australia. Now we have about 10 of 80 players on our books, so we are obviously going down a different path. We are only two years into it but it has already shown fruit."
Hart says: "We will never get a [Johnathan] Thurston or [Scott] Prince. Of course we will chase them but let's be realistic. Thurston won't be coming here because we won't be able to compete so we have to develop our own."
The Warriors' review will be ongoing. The recruitment of Hugh McGahan, Awen Guttenbeil, Monty Betham and former softballer Dean Rice to look into the team's preparations last week was just a small part of it.
Structure
Scurrah has looked at the structure of 12 NRL clubs and found the Warriors have the skinniest organisation. Some clubs employ more in their football department than the Warriors do in their whole club.
They are likely to add more staff but Hart has relinquished his job as director of football. He will remain on the board and still have an active but less formal role, with Scurrah adding the football department to his portfolio to replicate what most NRL clubs do.
"It was always our intention for the CEO to take over the football department eventually," Scurrah said. "We will engage John in more strategic things in the future."
The club's review is still far from complete and Hart says nothing will go unexamined.
"We will look at everything," he says. "Recruitment, selection, coaching, structure. We are putting ourselves under the spotlight but we are not broke. We are in good shape. We have just had a disappointing bloody year.
"If we were broke, we would have players running riot [off the field], and our management team and players would not be as close-knit as they are. We wouldn't have sponsors re-signing with us and we wouldn't sell out our corporate hospitality every week.
"But we need to be better than what we are because we all want one thing. We just want the team to be successful."