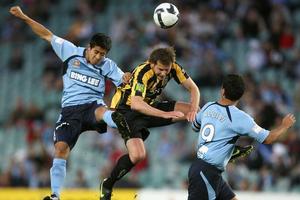 The Wellington Phoenix suffered their second loss of the A-League season, going down 0-2 to Sydney FC in Sydney tonight, but can have no complaints about the result after producing a lethargic performance.
With the loss, the Phoenix, on four points, drop out of the top six in the standings, giving way to Newcastle Jets who upset Gold Coast United 1-0 in another match played today.
Sydney's win saw them move to the top of the table on 10 points, one ahead of Gold Coast.
There was little in the way of a repeat of last week's performance against Queensland Roar in which a spirited second half performance saw the Phoenix snatch a late equaliser for an honourable draw.
Strikers Paul Ifill and Chris Greenacre were muzzled by a hard-running Sydney defence and although Leo Bertos tried hard, he lacked the support to make an impression on the match.
The first half got off to a slow start with neither side gaining the upper hand in midfield.
Any potential chance was quickly smothered by defenders from both sides and neither possessed the creativity in midfield to break the deadlock.
The Phoenix had a half look at the Sydney goal but Bertos was unable to get a clean header in off a Paul Ifill cross.
A heart-stopping moment was provided by Phoenix goalkeeper Reece Crowther who was making his league debut.
Crowther's lethargic attempt at a clearance was charged down by Sydney's Mark Bridge and the looping rebound just cleared the outside of the right upright.
The goalkeeper made amends in the 41st minute when he went full stretch to tip over a Brendan Gan header off a corner kick.
The Phoenix, who have won twice, lost once and drawn once on the Sydney ground, seemed unable to come out of their defensive shell for the second half leaving their forwards stranded.
Sydney, sensing their chance, pushed forward and broke the deadlock in the 71st minute when unmarked central defender Brendan Gan powered a header into the net off a corner kick.
Four minutes later, Sydney sealed the win with a swift counter attack after a Phoenix corner kick went astray.
Skipper John Aloisi had the simplest of tasks nodding home a cross from the right as the Phoenix defence scrambled back untidily.
- NZPA